Satellite Issues
Effective regulation of the satellite communications industry is essential to Asian consumers' ability to receive the thousands of television streams that make up the Asian pay-TV industry.

In recent years, CASBAA and its Satellite Industry Committee have been active, with other international satellite industry associations, in urging national and international regulatory bodies not to make frequency assignments that will result in fatal interference with TV broadcasts. (Several governments have assigned broadband wireless systems such as WiMax into C-band frequencies, ending the locals' ability to receive broadcasts on those frequencies – used for five decades by the satellite and television industries.)
CASBAA has formed a Wireless Action Group to monitor Asian developments on this key issue, and energetically defend these key frequencies for the Asian television industry.
Thursday, 11 December 2014 00:00
List of Foreign Satellites Which Can Be Used In Indonesia (Meet the "Landing Rights" Requirements) 

Full Article
Tuesday, 21 October 2014 12:36
In a submission to the Telecom Regulatory Authority of India (TRAI), CASBAA pointed out that satellite C-band frequencies support television services to 149 million Indian homes, as well as VSAT networks and other critical communications services. Said CASBAA: "the wide use currently being made of this spectrum for the benefit of the Indian population is a convincing reason for the Indian government to oppose "harmonized" designation of the C-band frequencies for IMT."
The submission rebutted "fallacies and misinformation" provided to the TRAI in a submission by the mobile industry, some parts of which were "manifestly untrue." The mobile industry is seeking to have the ITU's next World Radiocommunication Conference (WRC) divert C-band frequencies for mobile use. This strategy, said the CASBAA submission, seeks to lower mobile investment costs by acquiring additional spectrum which is providing television and other services to Indian consumers. "The cheapest option that allows this wealthy industry to avoid investing money into their networks is to ask for more spectrum. Taking spectrum used by other industries such as satellite costs mobile operators nothing but has a massive knock-on cost to society in terms of services lost."
Download the CASBAA Submission Here
Download the ITU's Latest Report on Non-compatibility (Appendix One) Here
Download a Consultant's Analysis of World-Wide Availability of Spectrum for Mobile IMT Services (Appendix Two) Here
Download a Comparison of Indian Spectrum Projections (Appendix Three) Here
Download a Review of the "Speculator" Model Used by a Mobile-Industry-Led ITU Study Group (Appendix Four) Here
Monday, 20 October 2014 10:36
CASBAA commissioned a detailed study by Paris-based technology consultancy Euroconsult, to examine the situation on-the-ground in three markets representative of the diverse economies of southern Asia and the Pacific. The study found that – in addition to the hundreds of millions of consumers who rely on C-band television streams – the banking and finance, energy production, and government sectors were particularly dependent on satellite networks using C-band spectrum, which is prized for its reliability and scope of coverage.
Read here
Wednesday, 09 July 2014 12:17
The global satellite network is one of the stellar achievements of the 20th Century. And it is a bridge to greater progress in the 21st.
From their vantage point high in space, satellites deliver a stunning range of services. Each one depends on the ability to transmit radio frequency signals across vast distances. From Earth to space and back again, distance drains the energy from these signals, requiring all our ingenuity to receive and interpret the information they contain. But interpret it we do. And every day of the year, those tenuous signals inform and educate us, feed the hungry and save lives. They forecast the weather, navigate our vehicles, transact business, restore services disrupted by disaster and fill our free time with entertainment.
Full report here
Wednesday, 25 June 2014 15:09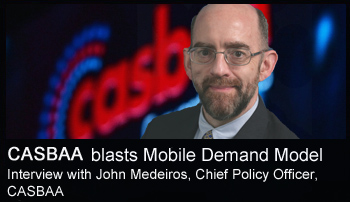 CASBAA's Chief Policy Officer John Medeiros discusses why C-band satellite communication is so important for countries in Asia, and why the mobile industry's demand estimates are way off base, in an interview with Kevin French, publisher of the ­Talk Satellite business magazine.
Listen to the interview here
Monday, 22 April 2013 11:04
Hidden in the recent Indian budget was a boost in taxes on satellite transmission services. CASBAA and the Indian Broadcasting Foundation have written to Finance Minister P. Chidambaram with a clear warning: higher satellite taxes will mean hikes in TV bills for hundreds of millions of Indian consumers. The Associations noted that for the previous decade the trend had been to lower such taxes to facilitate India's integration with the rest of the world and more closely track rates in other countries. The recent budget reverses that trend, proposing a boost in the tax rate from 10% to 25%. CASBAA and IBF called the higher rate "highly unreasonable, arbitrary and unjustified in prevailing market conditions." They noted that the increase in taxation will inevitably cascade down and fall on a great mass of Indian taxpayers.
Download the letter here.
Monday, 04 February 2013 18:12
Asian broadcasting and satellite organizations have united to appeal for attention and support by companies in Asia's many countries and regions for efforts to safeguard the satellite C-band frequencies which are the lifeblood of broadcast distribution in our region. These Associations have issued a joint appeal, which we attach, and urge all CASBAA members to consider and implement.
C-band frequencies are under threat as the ITU seeks additional frequency spectrum to assign for broadband wireless systems. Some mobile equipment manufacturers and mobile operating interests are mounting a concerted campaign to have the ITU declare part or all of the C-band as open for mobile use. This would be disastrous for the broadcasting industry.
The Associations – which represent the entire breadth of the broadcasting industry in Asia -- believe it is important that broadcasters act NOW; we ask the broadcast community to join efforts with the satellite industry to safeguard C-band spectrum for satellite services. The joint statement attached describes what needs to be done.
This statement has been endorsed by the Asia-Pacific Broadcasting Union, the Asia-Pacific Satellite Communications Council, and CASBAA, as well as the World Broadcasting Union (International Satellite Operations Group and the Global VSAT Forum.
Thursday, 06 December 2012 16:43
CASBAA's consultant Jorn Christensen and experts from member company Asiasat united to deliver a scientific paper and presentation to the prestigious IEEE Globecom 2012 conference in Anaheim, CA, USA on December 6, 2012. Christensen told the 2,000 assembled delegates from the global electronics and communications industries that interference into satellite reception from terrestrial broadband wireless systems is a real and growing problem in many countries. The likelihood is for the situation to get worse, he said, and the ITU is debating opening up the C-band for broader use, with potentially disastrous consequences. Download the presentation above, and the scientific paper here.
Tuesday, 31 July 2012 17:14
CASBAA members can look forward to an illuminating look at supply and demand in India's satellite services market by year-end. The Association has commissioned PwC to examine actual and potential demand for transponder space from DTH operators and others, and compare that with available capacity from Indian and foreign satellite operators. The last time CASBAA undertook such a survey five years ago, the Association foresaw a bandwidth crunch from growing demand from planned DTH services. We were right. Now, the services are real, and are being viewed in 40 million homes. To accommodate the growth, the Indian government has allowed use of some foreign-operated transponders, but CASBAA wants to see if there are additional measures that should be taken to accommodate demand in a key Indian growth sector.
Tuesday, 17 April 2012 00:00
A host of international business associations from a wide range of India's major trading partner and investment partner countries have urged the Indian government to abandon to impose sweeping retroactive taxation affecting a large number of industries. CASBAA has taken up advocacy on behalf of the international satellite industry. Both satellite operators and their Indian customers and consumers would suffer from the planned imposition of new tax rules. In its letter to the Indian Finance Ministry, CASBAA noted – as far as the satellite industry is concerned – retroactivity could not be justified on the basis that the government was merely "clarifying" existing tax law. Said CASBAA: "certain concepts that are fundamental to satellite services (i.e. satellite, up-linking, amplification, conversion for down-linking of any signal)…were not prevalent in India in 1976 and thus, it is inconceivable to think that a concept that did not exist in 1976 was intended to have been present in the legislation."
For CASBAA Members Only: A short "Background Briefing", Copies of the letters to the Finance Minister by CASBAA, and by the international business associations, can be found on this page.
Links:
http://www.indiantelevision.com/headlines/y2k12/apr/apr113.php
http://advanced-television.com/index.php/2012/04/10/new-sat-tax-could-cripple-indian-broadcasting/
http://www.spacenews.com/policy/120405-sat-operators-protest-indian-tax.html
Page 1 of 5