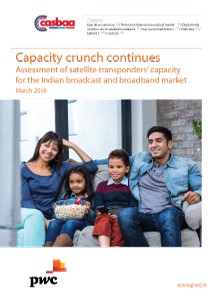 Key regulatory challenges need to be addressed to meet the future requirements of India's burgeoning media industry, as well as the government's goal of achieving wide public participation in Digital India, according to a report released at the CASBAA India Forum in New Delhi on March 22 2016. Researched and written by PwC India, the report details the continued constraints on DTH broadcasters because of policies limiting transponder leasing to 3-year contracts, and because of lack of transparency in national satellite planning processes. The report also highlights the potential contribution of satellite networks to building connectivity for India's remote areas, and allowing citizens there to quickly join "Digital India." In particular, the report observes that a satellite network constructed on the base of a modern High Throughput Satellite could connect the remotest and most difficult-to-reach villages (20% of the total) at only 5% of the cost of the National Optical Fiber Network, and 5 years faster.
For a copy of the report, download here.
Please log in to access restricted content.