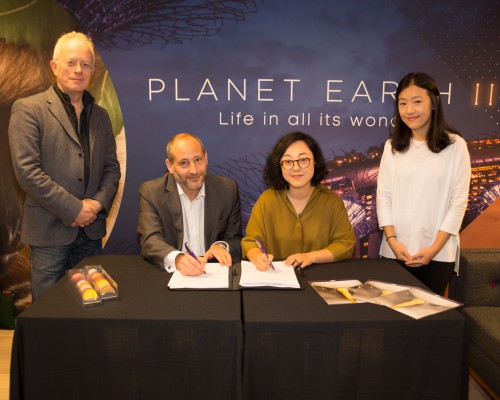 Today, BBC Worldwide announced a co-production deal with one of China's largest providers of Internet value added services, Tencent Holdings Limited ("Tencent", SEHK: 00700) for Planet Earth II. This is the first time BBC Worldwide is co-producing a documentary with a video platform in China.
Narrated by David Attenborough and produced by the BBC's Natural History Unit, the highly anticipated Planet Earth II will reveal the planet from a new perspective.  Shot in UHD and using the latest camera stabilisation, remote recording and aerial drone technology, Planet Earth II will take the audience closer to nature and allow them to experience the wilderness as if they were there. Combining dramatic animal behaviour and incredible wildlife spectacle, the six-part series promises to give audiences the most immersive wildlife documentary experience to date.
The deal was sealed at a signing event on the second day of MIPCOM with Molly Feng, Director, Video Content Co-operation, Tencent and David Weiland, EVP, Asia BBC Worldwide representing the two organisations.
Planet Earth II will broadcast simultaneously in China at the same time as the UK on Tencent's v.qq.com platform and its video app.
"A decade ago, Planet Earth redefined natural history filmmaking, giving us the ultimate portrait of life on Earth in HD. Planet Earth II is set to be another game changer. It will reveal our planet from a completely new perspective, using significant advances in both filming technology and our understanding of the natural world", said David Weiland, EVP Asia, BBC Worldwide. "We are very excited to be co-producing this landmark series with Tencent whom we have had a long and mutually beneficial relationship. This production partnership is an affirmation of the shared commitment we have in producing ambitious natural history content. Tencent's involvement will bring this landmark series to a wider Chinese audience across Greater China."
"We've been partnering with BBC Worldwide for some time now, working with them to bring in premium documentaries for our audiences in China. This co-production agreement signifies a new level in our relationship which we hope to grow further. We are confident that this is just the beginning of a fruitful and successful partnership," said Jeff Han, Vice President, Tencent Online Media Group and General Manager, Marketing & Video Content Co-operation.
Planet Earth II is a 6×60 series is a BBC Studios Natural History Unit production, co-produced with BBC America, ZDF, Tencent and France Télévisions. It will premiere in the UK on BBC One. It will simultaneously be aired on Tencent's v.qq.com platform.
*photo caption from left to right:
Mike Gunton, Creative Director of Factual and The Natural History Unit, BBC Worldwide, David Weiland, EVP, Asia BBC Worldwide, Molly Feng, Video Content Co-operation Department Supervisor, Tencent and Stefani Sun, Senior Strategic Partner Manager, Tencent
About BBC Worldwide
BBC Worldwide is the main commercial arm and a wholly owned subsidiary of the British Broadcasting Corporation (BBC).  Its vision is to build the BBC's brands, audiences, commercial returns and reputation across the world.  This is achieved through investing in, commercialising and showcasing content from the BBC around the world, in a way that is consistent with BBC standards and values.  The business also champions British creativity globally.
In 2015/16, BBC Worldwide generated headline profits of £133.8m and headline sales of £1,029.4m and returned £222.2m to the BBC. For more detailed performance information please see our Annual Review webpage: www.bbcworldwide.com/annual-review
For more information, please contact:
BBC Worldwide:
Jeanne Leong
BBC Worldwide
Tel: +65 6849 5292
Email: Jeanne.Leong@bbc.com