The bigger, the better?
Omnicom Group and Publicis Groupe are planning to merge, a move that creates the world's largest advertising firm, worth $35.1 billion. Find out what people are saying about the deal here
---
Save now on the CASBAA Convention 2013!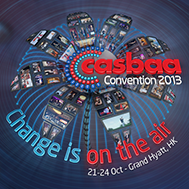 The early bird catches the discount – or at least until August 23! Register now to enjoy extra savings on delegate rates for the multichannel TV event of the year. Experience a whole new CASBAA Convention 2013 – Change is ON THE AIR. Click here
---
Be kind and watch Rewind
For a blast from the past, check out some of our favourite moments from previous Conventions in a new series of Rewind videos. Big name speakers predict the future – did they get it right? Watch themhere
---
Agreement reached with TAM India
Concerned that the ratings produced by TAM didn't accurately reflect viewership, advertisers, agencies and broadcasters have been working closely over the past few weeks with TAM and have jointly announced their agreement. Read more here
---
CASBAA Asia-Pacific Broadcast Directory 2013/14

With all the information needed to stay ahead of the ever evolving multichannel TV industry, the updated CASBAA directory is your one stop resource for relevant information and contacts for the APAC broadcasting industry. Get your copy here
---
Cross-carriage in Singapore
The long-drawn out battle over the rights to broadcast the EPL in Singapore appears to be over, for this year at least, when the MDA gave Singtel an exemption allowing it to cross-carry only the EPL channels. More here
---
CASBAA OTT Webinar 2.0
Last year, CASBAA published a survey of regulations for TV content delivered over internet networks entitled "A Tilted Playing Field." As markets in Asia continue to evolve, members have asked for a Webinar to review the study's findings again, to be held on August 28th. Stay tuned for more information!
---
Can Netflix co-exist?
TiVo Research and Analytics has released findings from its new study that shows that subscribing to Netflix is not cannibalizing the amount of linear TV viewing in TiVo households. Read more here
23 Aug 2013
Hong Kong
Regulatory & Anti-Piracy Committee Meeting
28 Aug 2013
Webinar: "Regulation of OTT Television in Asian Markets"
26 Sept 2013
Hong Kong
CASBAA Mixer
21 – 24 Oct 2013
Hong Kong
Convention 2013
24 Oct 2013
Hong Kong
Turner Presents the CASBAA Closing Gala
Follow us on Social Media Networks