Global pay TV revenues hit $184b
The number of pay TV households (analog and digital) reached 772 million by 2012, up from 585 million in 2008, according to a new report from Digital TV Research. Read more here
---
CASBAA provides Vietnam insights
As the region's authoritative voice for the multichannel TV industry, CASBAA was referenced in several articles pertaining to Vietnam's "Decision 20″ regulations. Read the latest articles fromThe Economist and Thanh Nien News
---
Finally, Some Movement in Taiwan?
Taiwan, which has had a large, static, legally-mandated analogue cable TV package for years, is in for some change, with consumers paying less for basic TV, but having more choice for premium content. See an English-language press report here here
---
CASBAA Satellite Industry Forum 2013
CASBAA's annual Satellite Industry Forum took place on Monday, June 17 at the Shangri-La Hotel in Singapore, attracting over 200 delegates, speakers, media, and guests from across the region and around the world. Click here for the summary
---
Bye-bye Boxee
Samsung is adding to its smart TV capabilities with the acquisition of streaming video appliance manufacturer Boxee even though it never caught on with the mass market. Read more here
---
CASBAA Convention 2013 – Pre-release combo!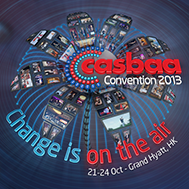 Until July 19, when you purchase a delegate pass at the pre-release rate, you can also purchase a CASBAA Closing Gala ticket for only $250 US, nearly 40% off the regular rate! For more info and to register, click here
---
Swedish pirate cable op fined US$1.8m
A Swedish man has been ordered to pay SEK12 million (EUR1.38 million) in damages to four pay-TV companies after being found guilty of possession of pirate TV decoders. Read morehere
---
Talk of mergers stirs cable TV players
Speculation about further consolidation in the US cable market… just because a market is mature doesn't mean there aren't any possible M&A scenarios. Read more here
---
New KPI lineup in Indonesia
A commission of the House of Representatives has announced a new membership lineup for the Indonesian Broadcast Commission (KPI). Read more here
---
Connections
The latest issue of Connections is now available to download or to read online. For all the latest industry information, click here
---
CASBAA Rewind
The CASBAA Convention celebrates its 20th anniversary this year. For a blast from the past, check out some of the best moments from the pasthere
19 Jul 2013
CASBAA Board of Directors Meeting
26 Sept 2013
Hong Kong
CASBAA Council of Governors Meeting
26 Sept 2013
Hong Kong
CASBAA Mixer
21 – 24 Oct 2013
Hong Kong
Convention 2013
Follow us on Social Media Networks