For fans to connect and engage with like-minded communities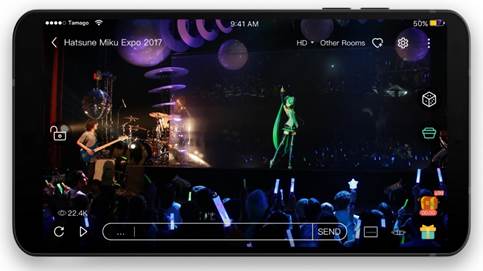 © Crypton Future Media, INC. © SEGA Graphics by SEGA / MARZA ANIMATION PLANET INC.
KUALA LUMPUR, 14 DEC 2017: Astro and Huomao, China's leading eSports live streaming platform have launched Tamago, a new live streaming platform targeted at millennials. Tamago focuses on localised user generated content (UGC) in Southeast Asia namely Malaysia, Indonesia, Philippines and Vietnam. Since its soft launch 2 months ago, Tamago has garnered over 150,000 users from across Southeast Asia.
Tamago allows viewers to explore interactive features like live streaming, gifting including virtual spending, real time interactions and creation of content. Viewers can engage real time via live chats as well as rewarding content creators with virtual gifts, that can be purchased through in app purchases through microtransactions on Tamago. Besides watching live streams by popular personalities and influencers, users on Tamago can also enjoy exclusive live gaming and video content such as Office War, eGG Clan and many other DotA 2 majors and minors from eGG Network and new reality show, Symphony of Love.
"We believe there is a strong interest in the live streaming space in Southeast Asia especially amongst millennials. In partnership with Huomao, our technology partner who has been successful with streaming live UGC content in China, we are pleased to launch Tamago with interactive live chats and streaming experience. Live streaming is an amazing way for people to connect and interact in real time and Tamago is well served by content creators, entertainers, musicians, gamers, social influencers and Astro celebrities," said Henry Tan, Chief Content & Consumer Officer, Astro Group.
"Astro is a clear leader in the content business in Southeast Asia. With Astro's strength in content and Huomao's technology, Tamago is well-positioned to drive a new form of entertainment in the region that is made possible with real-time online video streaming. This also presents new creative possibilities for sponsored content and native advertising as we have seen in China, which is of great interest to advertisers seeking branded content. We are glad to have an opportunity to be a part of Tamago and to lend support in the areas of technology and operations," said Naomi Wu 吴文璇, Chief Operating Officer of Huomao.
"We are excited to live stream the Hatsune Miku Expo 2017 on Tamago, thanks to our partners Crypton Future Media, INC and Digi. As there are millions of Hatsune Miku fans across the globe, those unable to attend the concert will get to experience this concert via Tamago. The concert live stream will be available to everyone. Just download the Tamago app and tune in on 16 December to enjoy," said YuBin Ng, Head of Tamago.
In addition, Tamago users are also able to watch live streams by over 190 content creators and social influencers including Malaysian superstars Zizan Razak and Lisa Surihani; Astro celebrities and personalities like, Hafiz Suip and YouTube sensation, Chaleeda Gilbert.
The Tamago app is available for free on the App Store and Google Play Store. For more information on all the latest content on Tamago, visit www.tamago.live and follow Tamago on Facebook at www.fb.com/tamagoofficialmalaysia.
###
About Tamago
Tamago is a live streaming social network that lets you watch or broadcast live video anytime, anywhere. With Tamago, you can be a super VIP and interact with your favourite personalities up close and personal, or be a superstar: showcase your talent on Tamago and get paid for it. Tamago takes you to both the front row and backstage of the hottest events in town. It also gives you direct access to your favourite personalities from around the region. For content creators, grow your popularity and get paid when viewers buy you gifts during your live streams! Shine on Tamago and kickstart your journey to stardom. With our partnership with Astro, you can stand a chance to become a celebrity and be featured across mainstream media.
About Astro
Astro Malaysia Holdings Berhad (Astro) is a Malaysian and ASEAN digital-first media and lifestyle company in the Digital, TV, Radio and eCommerce space. It is Malaysia's No. 1 online media company with 7.4 million unique visitors per month across the digital platforms of its entertainment and lifestyle brands. The company serves 21 million individuals in 5.3 million households, or 73% of Malaysian households, who are able to watch Astro content on all screens and on demand, be it TV, laptop, tablet and phone.
About Huomao TV
Founded in 2014, Huomao TV is China's leading eSports live streaming platform with high quality eSports and LIVE entertainment content. Huomao's mission is to provide the Chinese-speaking community a platform where they can enjoy premium eSports content from all over the world for free. Huomao owns over 70% of eSports event broadcast rights from all over the world, and has one of the best production team for broadcast in China. Having collaborated with some of the best in the industry, Huomao is without any doubt the number one eSports live streaming platform in China to enjoy the best amateur and professional eSports events.
Media contact for Astro:
Tammy Toh
Head/VP, Group Communications
Astro
Tel: +603-9543 6688 EXT:2046
Email: tammy_toh@astro.com.my
Azaria Loh
AVP, Communications
Astro
Mobile: +6019 668 2278
Email: azaria_loh@astro.com.my
Media contact for Tamago:
Ashleigh Hong
Marketing
Tamago
Tel: +6012 526 0265
Email: ash@tamago.live