Fans On Twitter Are Also Able To Unlock The Posters Using #WinterIsHere Together With An Emoji Specific To Each Character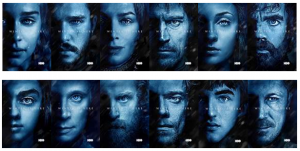 Watch the new trailer of Game of Thrones Season 7 here
Watch the Asia-exclusive interviews with Game of Thrones Season 7 cast here
Download the official character posters of Game of Thrones Season 7 here
Download the official animated character posters of Game of Thrones Season 7 here
Singapore, June 22, 2017 – HBO has unveiled the character posters for the highly anticipated seven-episode seventh season of the hit Original Series, GAME OF THRONES. Premiering in Asia the same time as the U.S. on July 17 at 9am (SIN), the 12 character posters further reminded and prepared fans that #WinterIsHere.
GAME OF THRONES fans on Twitter are also able to unlock the character posters when they tweet @GameofThrones using the #WinterIsHere hashtag together with an emoji specific to each character.
The hit series premieres in Asia the same time as the U.S. – exclusively on HBO this July 17 at 9am (SIN), with a same day primetime encore at 9pm (SIN). The series will also be streaming on HBO GO.
Based on the popular book series "A Song of Ice and Fire," by George R.R. Martin, this hit Emmy®-winning fantasy series chronicles an epic struggle for power in a vast and violent kingdom. Members of the ensemble cast include Emmy® and Golden Globe winner Peter Dinklage, Nikolaj Coster-Waldau, Lena Headey, Emilia Clarke, Aidan Gillen, Kit Harington, Sophie Turner and Maisie Williams.
# # #
About HBO ASIA
Singapore-based HBO Asia brings the best of Hollywood to Asia first through its exclusive licensing deals with major Hollywood and independent studios, including Paramount Pictures, Sony Pictures, Universal Studios, Warner Bros. and Lionsgate. HBO Asia has proprietary and award-winning HBO and HBO Asia Original programmes produced exclusively for HBO viewers. Wholly owned by HBO (a Time Warner company), HBO Asia reaches 23 territories across Asia with six 24-hour commercial-free subscription movie channels: HBO, HBO Signature, HBO Family, HBO Hits and Cinemax, as well as Red by HBO, internet streaming platform, HBO GO, subscription video on demand service, HBO On Demand, and in China, 鼎级剧场 (ding ji ju chang). HBO Asia is also the exclusive distributor of BabyFirst and the DreamWorks channel in the region. Log on to www.hboasia.com for more information.
For more information, please contact HBO Asia:
Karen Lai
Senior Director, Communications
Tel: (65) 6381 1796
Email: karen.lai@hboasia.com
Cheryl Foong
Manager, Communications
Tel: (65) 6381 1838
Email: cheryl.foong@hboasia.com
Chan Zi Ning
Executive, Communications
Tel: (65) 6381 1746
Email: zining.chan@hboasia.com