Inaugural awards seek out disruptive, leading-edge organisations who have successfully carried out digital transformation in Malaysia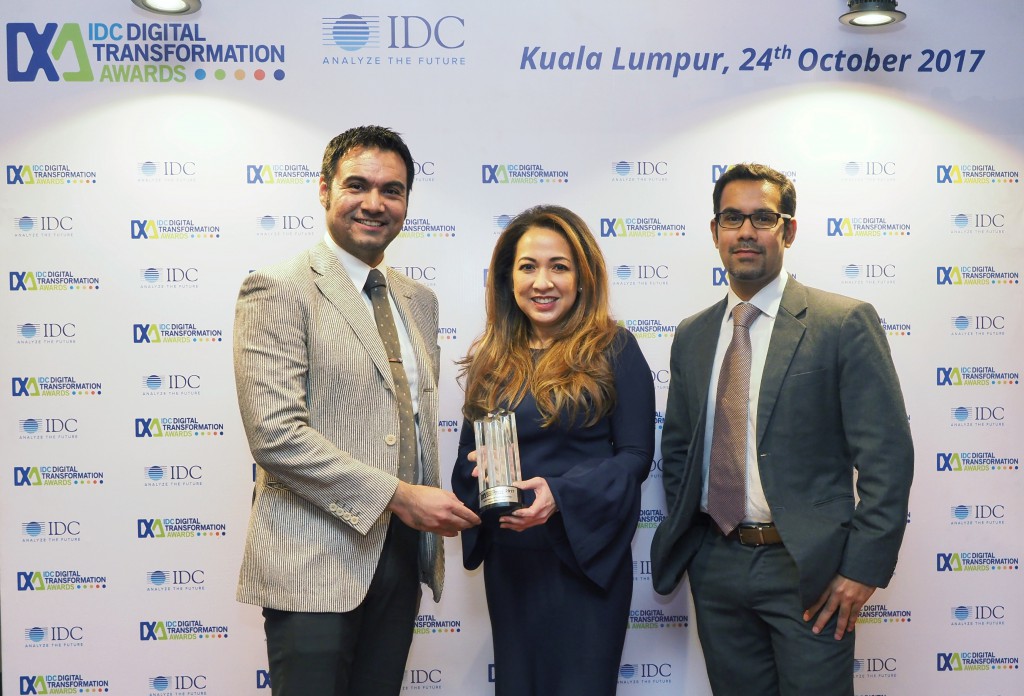 Kuala Lumpur, Malaysia, October 24, 2017 – Astro Malaysia Holdings Berhad ('Astro') was awarded Digital Transformer in Malaysia by International Data Corporation ('IDC') ASEAN in its inaugural Digital Transformation Awards (IDC DX Awards). IDC's DX Awards recognises outstanding organisations that have made critical breakthroughs in digital transformation across the Asia Pacific region.
Dato' Rohana Rozhan, Group CEO of Astro said, "In our journey of reinvention, Astro is embracing change brought about by digital, online and mobile while staying true to our core as a consumer-focused company. Our household proposition has been strong over the past 20 years, where today we serve 72% of total Malaysian households. While we will continue to grow this base, our aspiration is to be top of mind in both the household and individual spaces across Malaysia and the region.
The company has launched and built digital consumer brands such as Astro GO and Tribe, our local and regional OTT service; Go Shop, our ecommerce platform; Gempak, top Malay entertainment portal and Awani, a leading digital news platform. Today, Astro operates over 40 digital brands across websites and apps, reaching almost 7mn unique visitors per month.
Along with the digital transformation of the entire organisation, the last few years have been instrumental in learning and building our capabilities in software development, artificial intelligence (AI), data analytics, video delivery, ad technologies and e-commerce, and in so doing, improving efficiencies and cost to serve, enhancing our customer experience in omni-channel interaction and personalisation as well as delivering effective advertising solutions and reach to marketers.
We see the need to step up our pace and immersion in learning and relearning, building on our strengths and capabilities in our quest for increasing customer relevance in the New World. We are encouraged by the IDC DX award which recognises Astro's progress in our journey to remain a focussed customer centric, digital, cloud and mobile-first, analytics driven organisation."
"One of the most important steps in a successful digital transformation journey is to be able to visualize where the company needs to be in the near future, and how digital technologies can play a role. This require both business and technology teams working together, supported by the top leadership of the company. Based on IDC's assessment of digital transformation projects for the 2017 DX awards, Astro's nomination is impressive in its all-inclusive scope that examines the external and internal aspects of DX success, with the goal being towards a leader in the market segment. Not many companies take up this approach because it is quite challenging to execute and implement it." said Pranabesh Nath, Research Director – IDC Malaysia.
Astro's digital transformation project was selected among hundred high-quality entries received from end-user organisations across different industries in Asia/Pacific. Astro's win in Malaysia automatically qualifies the company for the IDC DX regional awards final where all country winners will be benchmarked against one another for Asia/Pacific's very best.
For more information about the award, visit www.IDCDXawards.com.
For media inquiries, please contact Tammy Toh tammy_toh@astro.com.my, Tessa Rago trago@idc.com or Alvin Afuang aafuang@idc.com
###
About Astro Malaysia Holdings Berhad ('Astro')
Astro Malaysia Holdings Berhad ('Astro') is a leading Malaysian and ASEAN content and consumer company in the Digital, TV, Radio and eCommerce space, serving 5.3 million customers representing 72% of Malaysian households and 21 million individuals in these homes, 15.4 million listeners weekly on 11 radio stations and 6.7 million unique visitors per month across its entertainment and lifestyle portals and mobile apps. Regionally the group serves over 1.1 million consumers in Malaysia and Singapore through Go Shop's ecommerce platform and 2 million users on its OTT service, TRIBE in Indonesia, The Philippines, Singapore and Thailand.
Astro holds the distinction of the 'Gold' award in the Media and Entertainment category at the Putra Brand Awards for 7 consecutive years from 2010 to 2016, including the 'Brand of the Year' award in 2012, the 'Brand Icon' award in 2013 and the 'Malaysian Marketer of the Year' award in 2016. Astro has also been recognised by CNBC for Asia's Best Talent Management and Asia's Business Leader Awards. Astro Kasih is the company's CSR arm, who has won multi award winning programmes including the Guinness World Book of Records for the Longest Underwater Clean Up.
About IDC
International Data Corporation (IDC) is the premier global provider of market intelligence, advisory services, and events for the information technology, telecommunications, and consumer technology markets. With more than 1,100 analysts worldwide, IDC offers global, regional, and local expertise on technology and industry opportunities and trends in over 110 countries. IDC's analysis and insight helps IT professionals, business executives, and the investment community to make fact-based technology decisions and to achieve their key business objectives. Founded in 1964, IDC is a wholly-owned subsidiary of International Data Group (IDG), the world's leading media, data and marketing services company. To learn more about IDC, please visit www.idc.com. Follow IDC on Twitter at @IDC.
About IDC DX Awards
The IDC DX Award categories and corresponding selection criteria are aligned to reflect the present-day transformation in the IT industry. The categories include: Digital Disruptor of the Year, Digital Transformer of the Year. IDC DX Awards is the first program in the market that acknowledges the game-changing stride and achievements of different organisations, to lead the region at the dawn of DX economy.
IDC's DX Awards follows a three-phased approach for determining country and regional winners. Each nomination goes through an initial assessment carried out by a local IDC analyst. The second phase requires all nominated organisations to go through IDC's MaturityScape benchmark for Digital Transformation. Lastly, local and regional analysts, with inputs from the academe, will convene to review the nomination, the MaturityScape results, and the country/industry landscape.