Tuesday, 19 September 2017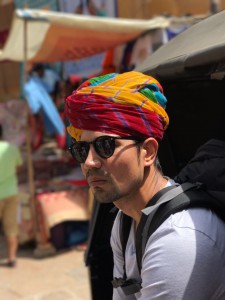 BBC Worldwide today announced a format deal with India network Viacom18 Media Pvt. Ltd. (Viacom18), to bring the factual entertainment format Stupid Man, Smart Phone to India.
The format, which makes its first appearance in Asia via India, will be localised and produced by BBC Worldwide India. It will premiere on 20 September on Viacom18's Video-on-Demand (VOD) streaming service VOOT, which reaches over 40 million users in India. It will air as a series of nine episodes of 15 to 20 minutes each.
Awarded 'Best Multi-platform Format' at the International Format Awards 2017 held in Cannes, Stupid Man, Smart Phone features a city-dwelling comedian attempt some of the world's toughest outdoor adventures, with his only survival tool being a mobile phone. Hosted by comedian, Sumeet Vyaas in India, he is joined by a celebrity guest each week. Together, they take on ambitious expeditions, relying on their online fanbase to help complete the tasks. Facing the worst that nature can throw at them, they use every app, website and social media platform possible to seek advice. The show kicks off in the forests along the Tamil Nadu-Kerala border, and explores the desert in Rajasthan and mountains in Arunachal Pradesh.
"India has the world's second largest internet consumer base of over 462 million, and mobile devices account for 79% of web traffic in the country*," Myleeta Aga, SVP and GM of South and South East Asia, BBC Worldwide commented. "Stupid Man, Smart Phone is a timely, entertaining and poignant reminder of how dependent we have become on our phones. We are confident that the series will resonate and be enjoyed by VOOT's users."
Speaking about the new show Gaurav Gandhi, COO – Viacom18 Digital Ventures said "VOOT continues to take the leadership mantle on innovation with many pioneering initiatives across both content and technology. The latest VOOT Original 'Vodafone Presents Stupid Man Smart Phone powered by Motorola', a category first, is one such initiative, that will offer a completely differentiated and engaging experience to our audience."
*Source: Digital in 2017 report, We Are Social and Hootsuite, January 2017
-Ends-
For more information, please contact:
Jeanne Leong
BBC Worldwide
Tel: +65 6849 5292
Email: Jeanne.Leong@bbc.com
Jessie Lim
BBC Worldwide
Tel: +65 6849 5295
Email: Jessie.Lim@bbc.com