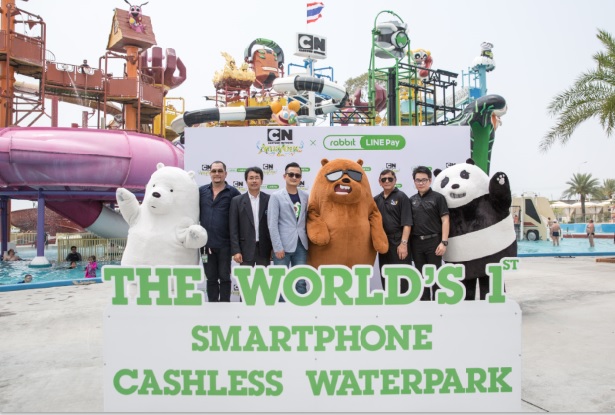 Thai attraction becomes world's first smartphone cashless waterpark, offering guests speedy payment on the go
Bangkok, Thailand – March 26, 2018
The world's only Cartoon Network-themed waterpark is set to fulfill its innovative ambitions to become a smartphone-friendly attraction for a cashless generation. Today, it announced a trailblazing partnership with Rabbit LINE Pay, Thailand's leading integrated payment platform.
Cartoon Network Amazone customers can now use Rabbit LINE Pay's 'tap and go' mobile payment method at all cashier counters throughout the park. With the seamless purchasing experience, there's even more time for fun on the water slides.
Rabbit LINE Pay, the mobile payment platform, also allows customers to purchase tickets, food and merchandise in advance through Cartoon Network Amazone on LINE GIFTSHOP. Customers will get fast pass tickets using e-coupon to check in at the turnstile, get special discounts and can also manage their costs to maximize a splash-tastic day.
The cashless system minimizes fraud and theft-related risks of carrying cash and credit cards, as well as eliminating the need to queue at top-up counters. Customers simply registers their credit card or bank account with Rabbit LINE Pay. Once done, they can use their mobile phone to scan the QR codes at the gate turnstile, retail, cabana rental and dining outlets.
Liakat Dhanji, CEO, Cartoon Network Amazone Waterpark, said: "We are thrilled to be pioneering the world's first collaboration between Cartoon Network and Rabbit LINE Pay to provide a fast, seamless mobile payment experience. From purchasing tickets to shopping at our retail store, our guests will be able to enjoy an entire day at the waterpark totally cashless. We are excited to set a new benchmark in the industry as the first waterpark in the world to offer such convenience to its guests."
Clement Schwebig, CFO and SVP of Licensing at Turner Asia Pacific, the company that operates Cartoon Network, added: "Since the very beginning, Cartoon Network Amazone has always been a leader in waterpark innovations. Turner is all about fan-centric experiences and this a great example of putting our customers first."
Comment from Suraj Pluegboonyachai, Head of Business Development, Rabbit LINE Pay: "Rabbit LINE Pay is the first mobile payment platform providing the total cashless experience to customers starting from the entrance to various store fronts within the water themed park. Not only would we expand customer base to family generation but also leverage digital payment experience for customers. We are committed to develop seamless and better service to serve all customers' daily lifestyle."
Quote from Suladda Sarutilavan, Director of Tourism Authority of Thailand Pattaya Office: "On behalf of the Tourism Authority of Thailand, I am excited and supportive of the initiative between Cartoon Network Amazone and Rabbit LINE pay. By creating this innovative smartphone enabled cashless payment platform, it sets a new standard for consumer convenience and the attractions industry. As more foreign and local visitors travel to the Eastern Seaboard Zone, this collaboration fits in with the mandate of the EEC to promote Thailand as a high technology hub for all travelers."
###
For more information about Cartoon Network Amazone, visit: www.cartoonnetworkamazone.com
Photo caption:
From left to right:
Piyawat Pleambier – Representative from Pattaya City
Watcharapol Sarson – Deputy Director Tourism Authority of Thailand (TAT), Pattaya Office
Suraj Pluegboonyachai, Head of Business Development, Rabbit LINE Pay
Liakat Dhanji, CEO, Cartoon Network Amazone Waterpark:
Rattanachai Sutthidechanai – Vice President of Pattaya Business and Tourism Association and former President of Pattaya Tourism
(+Cartoon Network's We Bare Bears: Ice Bear, Grizzly and Panda)
On behalf of Cartoon Network Amazone, contact:
Danita Boonchoeisak, Head of Brand Marketing & PR danita@cartoonnetworkamazone.com
Judi Tang, Chief Innovation Officer judi@cartoonnetworkamazone.com
On behalf of Rabbit LINE Pay, contact:
Varadee Vasavananda / varadeev@linecorp.com
About Cartoon Network Amazone Waterpark Thailand
Cartoon Network Amazone is Cartoon Network's first and only fully-branded waterpark. Located in Bang Saray, 15 kilometres south of Pattaya on the Thailand's Eastern Seaboard, the development comprises 10 themed entertainment zones each one offering an array of exhilarating water coasters and attractions. The waterpark also features captivating live and multimedia entertainment that incorporates the latest in interactive technology – bringing fans of Cartoon Network closer to their favorite characters than ever before. Cartoon Network Amazone takes its theme from the lush Amazon Rainforest while infusing the world's most popular animated series and cartoon heroes including Ben 10, Adventure Time, The Powerpuff Girls, Johnny Bravo and The Amazing World of Gumball. Cartoon Network Amazone is developed by Thailand-based attractions developer Amazon Falls Co. Ltd. under license from Turner Broadcasting System Asia Pacific, Inc.
www.CartoonNetworkAmazone.com / www.Facebook.com/CNAmazone
About Rabbit LINE Pay
Rabbit LINE Pay (RLP), previous named was LINE Pay a mobile payment from LINE, entered in Thailand since 201X. Partnered with Rabbit, the no.1 micropayment and renamed as Rabbit LINE Pay became Thailand 1st integrated offline and online payment platform. In March 2018, mPay (the subsidiary of AIS, the no.1 mobile operator) entered into a joint-venture agreement to create Thailand's cashless society aiming Rabbit LINE Pay to be the no. 1 mobile payment in Thailand.
More information: https://line.me/th/pay / Rabbit LINE Pay Call Center: (02) 841-5400 (09.00 – 18.00)