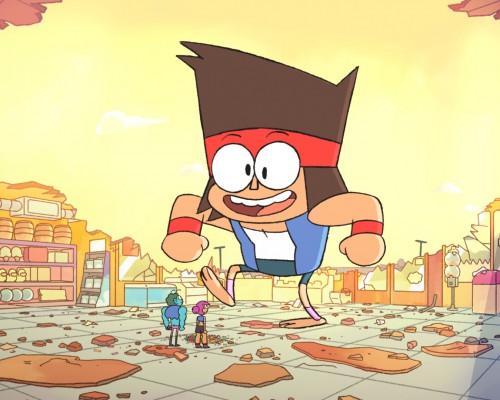 New Series Gets Greenlight along with an Integrated Console Game
HONG KONG – Cartoon Network powers up a connected world of original heroes across the TV and gaming landscape with the greenlight of animated series OK K.O.! Let's Be Heroes followed by an integrated console game jointly developed with indie video game studio Capybara Games. Created by Ian Jones-Quartey, and produced by Cartoon Network Studios, the action-packed show follows the heroic feats of K.O., an endlessly optimistic kid attempting to level up to be the best he can be in a dynamic universe of friends and challenging foes. The console and PC game is an action brawler with RPG elements and is expected to arrive in Asia Pacific this September.
To help build this highly-developed world, Cartoon Network opened the door to the gaming and creative communities to produce custom multiplatform content. At a Game Jam last year, independent game developers created their own original games based on the characters. Following the Game Jam, college undergraduates were invited to craft 15-second animation shorts using the IP at an Animation Jam. A standalone original mobile game, titled OK K.O.! Lakewood Plaza Turbo, also launched last year based on Jones-Quartey's short, of the same name, from Cartoon Network's Emmy-winning artist program.
"This combined launch marks the culmination of a unique multi-media development process," said Rob Sorcher, chief content officer for Cartoon Network. "The result is an entirely connected world which provides deeper satisfaction as fans get further into the property from every access point."
­Added Jones-Quartey: "For me, video games and animation have a lot in common and having fun is the main goal. OK K.O.! is a video game-inspired world expressed through the language of animation, but mostly an adventurous playground with heart-warming heroes who battle against robots."
OK K.O.! Let's Be Heroes is set in Lakewood Plaza, a mall for heroes, where K.O. and his cool crew of friends are constantly trying to impress each other in their efforts to level up and overcome the obstacles that evil foe Lord Boxman sends their way on his quest to destroy the plaza. OK K.O.! Let's Be Heroes is slated to premiere this summer in the U.S. and will also roll out across Asia Pacific later this year and early 2018.
Jones-Quartey first joined the Cartoon Network family in 2010 as a storyboard artist on Secret Mountain Fort Awesome. Most recently, he served as the co-executive producer on the Emmy-nominated series Steven Universe. He is an alum of the School of Visual Arts in New York City.
###
About Cartoon Network
Turner's Cartoon Network, the number one kids' channel in Asia Pacific, offers the best in original animated content including the multi-award-winning global hits Ben 10, The Powerpuff Girls, Regular Show, The Amazing World of Gumball, Adventure Time and We Bare Bears.
Cartoon Network is available in 29 countries throughout Asia Pacific and is currently seen in more than 135 million pay-TV homes. Internationally, it is seen in 192 countries and over 370 million homes, and is an industry leader with a global offering of the best in award-winning animated entertainment for kids and families.
The brand is known for putting its fans at the centre of everything by applying creative thinking and innovation across multiple platforms. Cartoon Network also reaches millions more through its websites, games and apps, including Cartoon Network Watch and Play and Cartoon Network Anything. Cartoon Network, sister company to Boomerang, POGO and Toonami, is a brand created and distributed by Turner, a Time Warner Company.
About Turner Asia Pacific
Turner Asia Pacific creates and distributes award-winning brands throughout the region, running 61 channels in 14 languages in 40 countries. These include CNN International, CNNj, CNN, HLN, Cartoon Network, Adult Swim, Boomerang, POGO, Toonami, World Heritage Channel, Warner TV, Oh!K, TCM Turner Classic Movies, truTV, MondoTV, TABI Channel, and HBO, HBO HD and WB in South Asia. Turner manages the business of Pay- and Free-TV-channels, as well as Internet-based services, and oversees commercial partnerships with various third-party media ventures; it teams with Warner Bros. and HBO to leverage Time Warner's global reach. Turner Broadcasting System Asia Pacific, Inc. ("Turner Asia Pacific") is a Time Warner company.
Publicity Contact
For further information, contact:
James Moore
Director of Communications, Turner Asia Pacific
+852 3128-3720 / James.Moore@turner.com