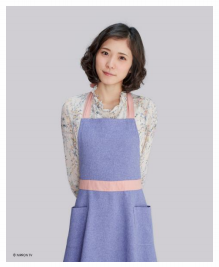 Headlined by KANJANI EIGHT member Ryo Nishikido and Mayu Matsuoka
Singapore, 5 July 2017 — The highly anticipated Japanese drama series My Loser Husband is set to premiere on Sony Pictures Television Networks' Asian entertainment channel GEM on Saturday, 8 July at 9pm|8pm(JKT/BKK)! Starring Ryo Nishikido from wildly popular Johnny's idol group KANJANI EIGHT and up-and-coming actress Mayu Matsuoka, the series will be airing same time as Japan.
"The great response from previous same-time-as-Japan offerings has been extremely encouraging," said Virginia Lim, Senior Vice President and Head of Content, Production and Marketing, Sony Pictures Television Networks, Asia. "There is strong demand for express content and we believe viewers will enjoy My Loser Husband with its stellar cast and appealing storyline without any delay from its telecast in Japan."
In My Loser Husband, Ryo Nishikido plays office worker Tsukasa Kobayashi, who is every bit the ideal husband to his wife Sayaka, played by Mayu Matsuoka. Though he is good-looking, has an impressive curriculum vitae and draws a large salary, he is hiding a secret – he is incompetent at his job. After suffering setback after setback at work, Tsukasa finally musters up the courage to resign, but this too is thwarted by his wife's pregnancy announcement. With Sayaka by his side, can she help him navigate the perils of the corporate jungle?
My Loser Husband premieres on 8 July 2017 at the same time as Japan, every Saturday at 9pm|8pm(JKT/BKK), first and exclusively on GEM.
GEM is available through the following:
Cambodia
PPCTV
Ch 42
Hong Kong
NOW TV
Ch 151
Indonesia
Indovision
Ch 155
MyRepublic
Ch 65
Nexmedia
Ch 307
Orange TV
Ch 1165
Skynindo
Ch 32
Transvision
Ch 322
Philippines
Skycable
Ch 116 (Metro Manila)
Ch 222 (Cebu, Davao, Bacolod, Iloilo and Baguio)
Singapore
Singtel TV
Ch 519
Thailand
TrueVisions
Ch 244
# # #
About GEM
GEM is the glittering jewel of Asian general entertainment. A joint venture between Sony Pictures Television (SPT) Networks and Nippon Television Network Corporation, GEM enjoys access to more than 500 hours of Japanese content per year exclusively from Nippon TV.
The channel features first-run and exclusive dramas, comedies and variety entertainment shows from Japan as well as other Asian territories including China, Hong Kong and Taiwan. This includes selected prime time dramas on the same day and within the same week of their broadcast in Japan. GEM also made history for being the first channel to broadcast Nippon TV's music festival 'THE MUSIC DAY' LIVE, and for simulcasting the Japanese drama series 'Guard Center 24' at the same time as Japan. In addition, GEM takes its shows beyond the screen and into the lives of viewers, and most recently brought Japanese star Hayami Mocomichi on promotional tours to meet with his fans in Hong Kong and Singapore.
GEM Vietnam, which is also part of the Asian channels portfolio, is wholly-owned and operated by SPT Networks.
See www.GEMtvasia.com for more.
For further information:
Sony Pictures Television Networks, Asia
Jarieul Wong
Tel: +65 6622 4203 / +65 9188 3227
Jarieul_Wong@spe.sony.com
Minsi Zhang
Tel: +65 6622 4323 / + 65 9772 7219
Minsi_Zhang@spe.sony.com
About Sony Pictures Television Networks, Asia
Sony Pictures Television Networks, Asia was established in 1997 with Singapore as the Asian headquarters of Sony Pictures Television's networks business. It operates five ad-supported 24/7 channels which are wholly-owned by Sony Pictures Entertainment.
AXN is Asia's home of thrilling entertainment; Sony Channel is the premier destination for femaleskewing Hollywood entertainment; Animax offers anime for all; ONE is powered by prime and current South Korean entertainment content; and GEM serves up star-studded and popular general entertainment programming from Japan, China, Hong Kong, Taiwan and South Korea. The company also operates joint-venture Indonesian telenovela channel FMN and children's content channel BabyTV.
About Nippon Television Network Corporation (Nippon TV)
Since becoming Japan's first commercial broadcaster in 1953, Nippon TV has become the country's undisputed ratings champion and finest producer of all genres of programs. One of the biggest successes for Nippon TV is "Dragons' Den," a globally successful business show. The format has sold into more than 30 territories including the UK, Canada, Australia, Russia, Germany, India, Italy and Nigeria. The Emmy award winning version, "Shark Tank," airs in the US. With well-established companies that deal in a broad range of businesses from movies, animation, events, to fitness clubs, Nippon TV is leveraging its ideal platform to expand into new realms. Recently launching a channel in Southeast Asia named GEM through a joint venture with Sony Pictures Television Networks, and taking a stake in the SVOD market through wholly-owned subsidiary Hulu Japan, Nippon TV is steadily solidifying its presence and brand as a global media powerhouse.