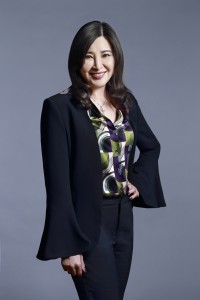 SINGAPORE, 15 JUNE 2017 – HBO Asia is pleased to announce the appointment of Ms. Jessica Kam (甘蕙茵) as their new Senior Vice President for HBO Asia Original Productions where she will be responsible for all aspects of the network's productions of all HBO Asia Originals. A senior TV executive and film producer with over twenty years of experience in film, TV, music, news and digital media, Jessica brings with her a wealth of media experience that spans across three continents and joins HBO Asia with a deep understanding of the industry in Asia.
"We welcome Jessica into our HBO family and trust that she will elevate our offerings and presence here in Asia through the creation of more Asian content," says Jonathan Spink, CEO of HBO Asia. He further adds, "HBO Asia was one of the first in the region to produce Asian Original content and there has been a growing interest in Asian productions which is encouraging for us as we ramp up HBO Asia Original productions under Jessica's leadership and wealth of experience in the region – creating content for viewers not only in Asia, but also across the globe."
Jessica's appointment follows HBO's growing position and commitment to produce more original content for Asia. As early as 2012, HBO Asia started producing its Original productions with the action horror film, Dead Mine. Since then, HBO Asia's repertoire of Asian Original productions have captured the attention of Asian audiences and received acclaim from the industry, evidenced by the accolades it has won and been nominated for prestigious awards internationally.
Over the years, the network's Originals have grown from strength to strength, attracting potential partnerships and collaborations within the region to create quality content. To date, HBO Asia has produced eight Asian Originals with more slated to premiere later this year. The network's most recent Asian Original series, The Teenage Psychic, was HBO Asia's first Mandarin Original series. It received positive feedback and the highest premiere average rating of all HBO Asia Original series in Singapore, Malaysia and Taiwan.
Jessica's understanding of the movie and entertainment industry in Asia stems from her experience in producing 10 feature films in China to date. Some of her notable film credits include the award-winning Chinese feature film The Piano in a Factory (钢的琴) that has received over a dozen international awards, commercial releases such as Kungfu Cyborg (机器侠), Just Another Pandora's Box (越光宝盒), Bump in the Road (一路顺疯), as well as the upcoming 10-ton Killer (十吨刺客) and East Sea Odyssey (大闹东海). In 2016, she produced two critically-acclaimed films including the Hong Kong documentary She Objects (她非它) and the first official Italian-Chinese co-production Coffee.
Before working as a film producer in China, Jessica had stints with various regional media companies. From 2005 to 2008, Jessica oversaw Celestial Pictures' marketing and product management teams to drive the distribution of its Shaw Brothers library titles, new films and TV channels. In 1999-2005, she served MTV Asia as head of the MTV China Channel and VP of Network Communications. Prior to MTV, she has also worked for MGM Gold, Dow Jones Newswires and Disney Studios.
Jessica holds an MBA from the J.L. Kellogg Graduate School of Management at Northwestern University, as well as a B.A. in Computer Science from U. C. Berkeley, USA. She was the President of the International Advertising Association (IAA), Hong Kong Chapter (2001-2005).
# # #
About HBO ASIA
Singapore-based HBO Asia brings the best of Hollywood to Asia first through its exclusive licensing deals with major Hollywood and independent studios, including Paramount Pictures, Sony Pictures, Universal Studios, Warner Bros. and Lionsgate. HBO Asia has proprietary and award-winning HBO and HBO Asia Original programmes produced exclusively for HBO viewers. Wholly owned by HBO (a Time Warner company), HBO Asia reaches 23 territories across Asia with six 24-hour commercial-free subscription movie channels: HBO, HBO Signature, HBO Family, HBO Hits and Cinemax, as well as Red by HBO, internet streaming platform, HBO GO, subscription video on demand service, HBO On Demand, and in China, 鼎级剧场 (ding ji ju chang). HBO Asia is also the exclusive distributor of BabyFirst and the DreamWorks channel in the region. Log on to www.hboasia.com for more information.
For more information, please contact:
Karen Lai | Senior Communications Director | HBO Asia
DID +65 6381 1796 | Mobile +65 9111 2655 | Fax +65 6287 2210 | www.hboasia.com