Projects include 6 productions based in various countries across Asia including China, Indonesia, Japan, Korea, Malaysia, Singapore, Taiwan and Thailand.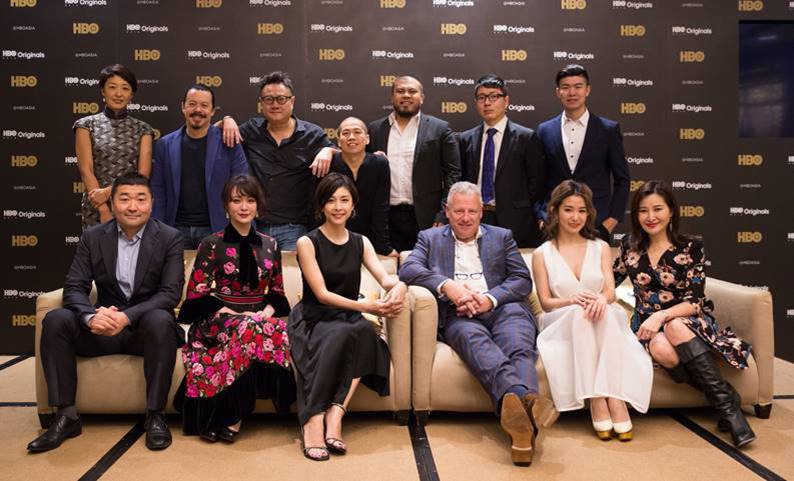 Seated (L-R): Kazufumi Nagasawa, Shihori Kanjiya, Yuko Takeuchi, Jonathan Spink, Kuo Shu Yau, Jessica Kam
Standing (L-R): Fan Bei Bei, Mike Wiluan, Eric Khoo, Ho Yuhang, Joko Anwar, Lee Sang-Woo, Chen Ho-Yu
Download Hi-Res Images here
SINGAPORE, NOVEMBER 30, 2017 – This year marks the 25th Anniversary of HBO Asia and the regional network is celebrating this milestone by bringing to Singapore ten regional and international talents and unveiling its plans to ramp up the number of HBO Asian Original productions scheduled to premiere in the coming years. Six projects were announced today and these productions will be filmed and based in various countries across Asia including China, Indonesia, Japan, Korea, Malaysia, Singapore, Taiwan and Thailand.
Being one of the first regional networks to produce original content in Asia since 2012, HBO Asia has produced ten Asian Originals to date and is committed to expand its repertoire further for audiences in the region and globally. A panel of directors, showrunners and cast members from four of HBO Asia's upcoming original productions shared insights about their productions at a press event today. All upcoming HBO Asia Originals will be available exclusively on HBO Asia's network of channels including HBO's online streaming platform, HBO GO and the on-demand service, HBO On Demand.
In 2017, HBO Asia premiered four Asian Originals including the second season of HALFWORLDS, the dark action fantasy drama series set in Bangkok that premiered in January; the award-winning THE TEENAGE PSYCHIC (通靈少女), HBO Asia's first original Chinese series set in Taiwan that premiered with breakthrough ratings in April; SENT, HBO Asia's first comedy drama series that premiered in September; and THE TALWARS: BEHIND CLOSED DOORS, HBO Asia's first original documentary series that premiered last Sunday. HALFWORLDS and SENT were produced as part of a two-year partnership with the Info-communications Media Development Authority (IMDA). IMDA has renewed the partnership with HBO Asia for another two and a half years, to further develop the drama production capabilities of media companies and talent from Singapore. This collaboration will continue to feature Southeast Asian talent in various roles in front and behind the camera for HBO Asia's upcoming pipeline of productions.
Mr. Jonathan Spink, CEO of HBO Asia said, "HBO has always been known to produce high quality, premium Original productions. By harnessing the full potential of talent and production infrastructure the region has to offer, we are well-positioned to create premium, authentic and relevant content for our audiences in the region, many of which have been recognised for various creative and performance awards." He further adds, "With its richness in culture and histories, Asia is a great source of stories which make for appealing content locally as well as globally. We are excited that as a start, two of our HBO Asian Originals, THE TEENAGE PSYCHIC and both seasons of HALFWORLDS will be available to audiences in the U.S. on the HBO U.S. service from next month."
Series premiering soon on HBO Asia's network of channels include (in alphabetical order):
FOLKLORE is a six-episode hour-long horror anthology series that takes place across multiple Asian countries including Indonesia, Japan, Korea, Malaysia, Singapore and Thailand and each episode will be based on each country's deeply-rooted superstitions and myths. Helmed by different directors from various countries in Asia, each episode will seek to modernise or update Asian horror, exploring societal dysfunctions in a manner that is specific to the country but possessing themes that will resonate across the continent. Creator and showrunner of FOLKLORE is award-winning Singaporean film maker, Eric Khoo. Other directors involved in FOLKLORE are Joko Anwar (Indonesia), Ho Yuhang (Malaysia), Lee Sang-Woo (Korea), Pen-Ek Ratanaruang (Thailand) and Takumi Saitoh (Japan).
GRISSE is an eight-part hour-long period drama series set in the mid 1800's within the colonial period of the Dutch East Indies. The series chronicles the story of a group of unlikely individuals who lead a rebellion against a brutal governor and suddenly find themselves in control of a Dutch garrison town called Grisse. The stories revolve around a number of unique characters, each from diverse backgrounds and creeds who unite for the chance to determine their own destiny from the yoke of tyranny. Showrunner for GRISSE is Mike Wiluan.
MASTER OF THE WHITE CRANE FIST: WONG YAN-LAM (龙藏深泉王隐林) and MASTER OF THE NINE DRAGON FIST: WONG CHING-HO (龙形侠影黄澄可) is the third and fourth instalment of the Chinese language martial arts anthology movie series following previous two instalments that premiered in 2016 – MASTER OF THE DRUNKEN FIST: BEGGAR SO and MASTER OF THE SHADOWLESS KICK: WONG KEI-YING.
Directed by Guo Jian-yong (国建勇), who also directed the first two instalments, MASTER OF THE WHITE CRANE FIST: WONG YAN-LAM (龙藏深泉王隐林) is set in ancient China during the late Qing dynasty and tells the story of four constables escorting a criminal crossing paths with a theatre troupe and a mysterious priest, setting off a series of events that will lead to the murder of a constable. Amongst them is the legendary Master of the White Crane Fist, who will unravel the consequences of greed, revenge, betrayal and opium-smuggling.
Directed by Si Xiao-dong (司小冬), MASTER OF THE NINE DRAGON FIST: WONG CHING-HO (龙形侠影黄澄可) is set in China in the early 19th century. A British businessman, Mr. James, sells opium as a "longevity enhancement medicine" that saw many locals become addicted to opium. The head of Guangzhou's martial arts alliance, Wong Ching-Ho, decide to take action into his own hands and destroy Mr. James' opium warehouses. To save his business, Mr. James instigated a Kung Fu master, Man Sing, to eliminate his enemy, leading Wong to develop his legendary Nine Dragon Fist.
MISS SHERLOCK (神探夏洛克小姐) is HBO Asia's very first Japanese language eight-part, hour-long drama series, produced in collaboration with Hulu in Japan. The series, premiering across 20 countries in April 2018, pays homage to the classic by Sir Arthur Conan Doyle, Sherlock Holmes, with bold interpretations of the iconic characters, Sherlock Holmes and Dr. John Watson. MISS SHERLOCK is set in modern day Tokyo and both lead characters are Japanese women – Dr. Wato Tachibana (played by Shihori Kanjiya), a surgeon recently returned from a volunteer doctors' mission in Syria and Sara Shelly Futaba (played by Yuko Takeuchi), an investigation consultant to the police department who solves bizarre and difficult cases. Throughout the series, the pair solves mystery after mystery with Miss Sherlock's extraordinary observation and reasoning skills. Catch the first official trailer here.
THE TEENAGE PSYCHIC (通靈少女) is slated to return with a second season with Kuo Shu Yau (郭書瑤) reprising her lead role as Xie Ya Zhen (謝雅真), a psychic born with the ability to see spirits and learning to use her abilities to help others. The second season of the series will once again be directed by rising Taiwanese writer-director Chen Ho-Yu (陳和榆). The first season of THE TEENAGE PSYCHIC (通靈少女) told a coming-of-age story that revolves around a 16-year-old girl who just wants to lead a typical teenage high school life. Born with the ability to see spirits, her life will never be normal. She must juggle the pressures of teenage life – first love, academic success and peer pressure – with the demands of the spirit world. THE TEENAGE PSYCHIC (通靈少女) Season 1 also recently clinched the coveted Best Mini-Series (TV Movie) award and Best Supporting Actress in a Mini-Series (TV Movie) for Nana Lee (李千娜) award at Taiwan's 52nd Annual Golden Bell Awards 2017 and received two nominations at the 22nd Asian Television Awards 2017 for Best Actor in a Supporting Role for Chen Mu Yi (陳慕義) and Best Cinematography.
As part of the 25th Anniversary festivities, GAME OF THRONES actor, Tom Wlaschiha, best known for his role as Jaqen H'ghar, in the hit HBO Original series, was also in Singapore. His character is best known for helping Arya Stark learn the deadly arts of his order, the Faceless Man at the House of Black and White in Braavos. Catch up on all 7 seasons of GAME OF THRONES on HBO GO and HBO On Demand.
# # #
About HBO Asia
Singapore-based HBO Asia brings the best of Hollywood to Asia first through its exclusive licensing deals with major Hollywood and independent studios, including Paramount Pictures, Sony Pictures, Universal Studios, Warner Bros. and Lionsgate. HBO Asia has proprietary and award-winning HBO and HBO Asia Original programmes produced exclusively for HBO viewers. Wholly owned by HBO (a Time Warner company), HBO Asia reaches 23 territories across Asia with six 24-hour commercial-free subscription movie channels: HBO, HBO Signature, HBO Family, HBO Hits, Cinemax and Red by HBO, internet streaming platform, HBO GO, subscription video on demand service, HBO On Demand, and in China, 鼎级剧场 (ding ji ju chang). HBO Asia is also the exclusive distributor of BabyFirst and the DreamWorks channel in the region. Log on to www.hboasia.com for more information.
For more information, please contact HBO Asia:
Karen Lai
Senior Director, Communications
Tel: (65) 6381 1796
Email: karen.lai@hboasia.com
Cheryl Foong
Manager, Communications
Tel: (65) 6381 1838
Email: cheryl.foong@hboasia.com
Chan Zi Ning
Executive, Communications
Tel: (65) 6381 1746
Email: zining.chan@hboasia.com