New Features On HBO GO Include Downloads Of Award-Winning HBO Original Content And Hollywood Movies As Well As Live TV Viewing Anytime Anywhere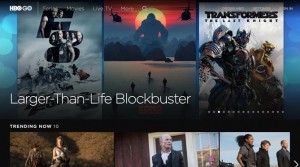 Watch the HBO GO download tutorial here
Download high-res images of HBO GO here
SINGAPORE, MAY 16, 2018 – HBO Asia announced today that their online streaming service, HBO GO, is now available in Indonesia to all First Media customers who are eligible HBO subscribers. In Asia, HBO GO is currently available in Hong Kong, Philippines and Singapore.
Subscribers of HBO GO can stream their favourite Hollywood movies, HBO Original and HBO Asia Original programmes anytime, anywhere via the internet on their computer, or on their mobile devices through the HBO GO App (from App Store or Google Play). HBO GO now has new features including download capabilities of HBO Original programmes and selected Hollywood movies from HBO GO's extensive video-on-demand library and live TV streaming of HBO Asia's bouquet of channels.
"With HBO GO's streaming and download capabilities, HBO GO subscribers will now have more options to access our ever-expanding repertoire of HBO Originals and HBO Asia Originals as well as numerous Hollywood blockbuster movies anytime, anywhere," said Mr. Jonathan Spink, CEO of HBO Asia.
In Indonesia, the HBO GO service is currently available as a free value-added service to First Media customers with subscription to eligible HBO packs. Log on to First Media's website for more information. For more information on HBO GO, please visit https://www.hbogoasia.com.
New Features on HBO GO
HBO Asia's online streaming service, HBO GO, has been given a boost, with several new and improved features, an enhanced user experience and a refreshed new look.
HBO GO subscribers will have unlimited access to stream a wide range of Hollywood blockbusters as well as over 1,500 hours of award-winning HBO Original and HBO Asia Original series and movies. In addition, subscribers will now have the flexibility of catching their favourite HBO Original programmes, same time as the U.S. and without an internet connection, with the newly-enabled download feature added to all HBO Original titles.
All original U.S. versions of HBO Original content, including Emmy® award-winning series such as GAME OF THRONES, BIG LITTLE LIES and WESTWORLD; as well as HBO Asia Original series such as THE TEENAGE PSYCHIC and MISS SHERLOCK, will all be available for download and offline viewing. Selected movie titles will also be available for downloads such as LA LA LAND (Ryan Gosling, Emma Stone star), MOONLIGHT (Mahershala Ali, Shariff Eap star), MISS SLOANE (Jessica Chastain, Mark Strong star) and JOHN WICK: CHAPTER 2 (Keanu Reeves, Riccardo Scamarcio star).
HBO GO also includes the new Live TV capability where all HBO Asia's bouquet of channels – HBO HD, HBO Hits, HBO Family, HBO Signature and Cinemax, will be available live, in real time, on HBO GO via the internet.
About HBO GO
HBO GO is an internet-based streaming service that allows subscribers to enjoy Hollywood blockbusters and exclusive HBO Originals – including series, movies, documentaries, on desktops over PCs, MACs, iOS/Android mobile and tablet devices, anytime, anywhere. The HBO GO App can be downloaded from App Store or Google Play and can be used on PC/Mac and smart phones and tablets running on iOS and Android.
HBO GO is available 24/7 on five registered devices (subject to two concurrent streams), of a verified subscriber and has Airplay and Chromecast functionalities. Subscribers will be able to download up to 20 pieces of content for each account across all registered devices, subject to storage capacities for each device. Downloaded content will be available for 28 days after download and will expire 48 hours after the first viewing.
Other features available on HBO GO include:
• Improved content discovery with the Watchlist feature where users can create a personalised list of shows or movies to watch while they are available on HBO GO.
• Parental Control feature that enables parents to restrict their children's access to certain types of content depending on the selected age guidance.
• To ensure an optimal viewing experience on HBO GO, all content on HBO GO will be offered in true HD quality (subject to available bandwidth).
• The Video Continuity feature allows users to continue where they left off even when they switch between registered devices.
• Subtitles* are available for series and select movies.
*Subject to original language of content.
# # #
About HBO ASIA
Singapore-based HBO Asia brings the best of Hollywood to Asia first through its exclusive licensing deals with major Hollywood and independent studios, including Paramount Pictures, Universal Studios, Warner Bros., Lionsgate and DreamWorks Animation. HBO Asia has proprietary and award-winning HBO and HBO Asia Original programmes produced exclusively for HBO viewers. Wholly owned by HBO (a Time Warner company), HBO Asia reaches 23 territories across Asia with six 24-hour commercial-free subscription movie channels: HBO, HBO Signature, HBO Family, HBO Hits and Cinemax, as well as Red by HBO, internet streaming platform, HBO GO, subscription video on demand service, HBO On Demand, and in China, 鼎级剧场 (ding ji ju chang). HBO Asia is also the exclusive distributor of BabyFirst channel in the region. Log on to www.hboasia.com for more information.
For more information, please contact:
Karen Lai | Senior Communications Director | HBO Asia
DID +65 6381 1796 | Mobile +65 9111 2655 | Fax +65 6287 2210 | www.hboasia.com