Stream All Oscars® Programs 'Live' on HBO GO Including The Live Nominee Announcement On January 23 at 9.22pm, Red Carpet And The 90TH Annual Academy Awards® 'Live' On March 5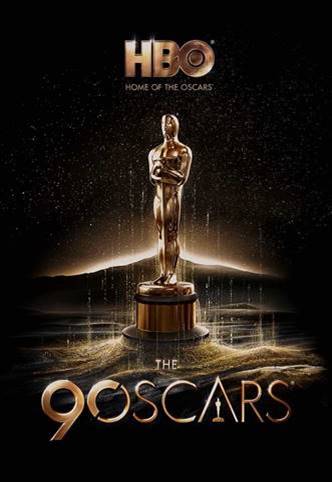 Watch: The 90th Oscars® teaser
SINGAPORE, January 22, 2018 – HBO is once again the home of the Oscars® (#HBOAsiaOscars2018) in Asia this year. Subscribers across Asia can enjoy the ultimate Oscars® experience across multiple screens on TV and connected mobile devices on HBO Asia's network of channels and online platforms. Stream all the Oscars® programs on HBO GO and watch them on HBO as well as catch live and exclusive updates and interviews from the Oscars®, direct from Hollywood, on HBO Asia's Oscars® microsite and social media platforms – Facebook, Twitter, Instagram and YouTube.
The ultimate Oscars® experience will kick off with the 'Live' Nominee Announcement of The 90th Academy Awards® nominations on Tuesday, January 23, 2018. Stream it live on HBO GO or watch it on HBO at 9:22pm.
The ultimate Oscars® experience culminates on Monday, March 5 with The 90th Academy Awards that will stream live on HBO GO and will also be broadcasted live and exclusively on HBO starting with the Oscars® Red Carpet 'Live' from 7:30am followed by The 90th Academy Awards® 'Live' at 9am. Both programs will encore that same night on HBO at 7pm and 8pm respectively. Held at the Dolby Theatre® at Hollywood & Highland Center® in Hollywood, late-night talk show host, producer and comedian, Jimmy Kimmel, will return to host the 90th Oscars®.
For the line-up of Oscars® programming on HBO GO and HBO, please refer to the table below.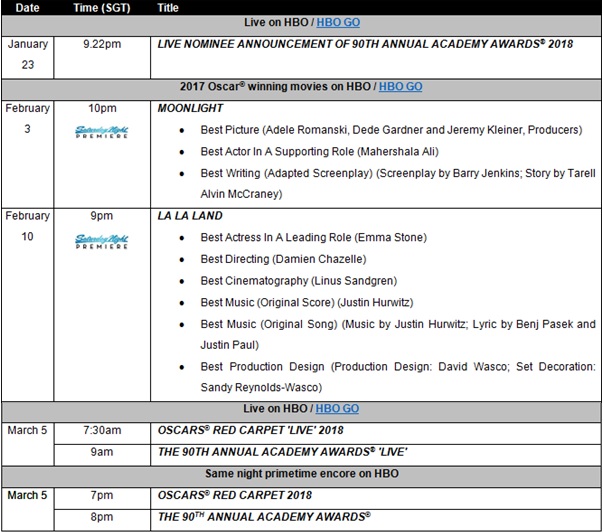 # # #
Join the conversation: #HBOAsiaOscars18
About HBO ASIA
Singapore-based HBO Asia brings the best of Hollywood to Asia first through its exclusive licensing deals with major Hollywood and independent studios, including Paramount Pictures, Universal Studios, Warner Bros., Lionsgate and DreamWorks Animation. HBO Asia has proprietary and award-winning HBO and HBO Asia Original programmes produced exclusively for HBO viewers. Wholly owned by HBO (a Time Warner company), HBO Asia reaches 23 territories across Asia with six 24-hour commercial-free subscription movie channels: HBO, HBO Signature, HBO Family, HBO Hits and Cinemax, as well as Red by HBO, internet streaming platform, HBO GO, subscription video on demand service, HBO On Demand, and in China, 鼎级剧场 (ding ji ju chang). HBO Asia is also the exclusive distributor of BabyFirst channel in the region. Log on to www.hboasia.com for more information.
For more information, please contact HBO Asia:
Karen Lai
Senior Director, Communications
Tel: (65) 6381 1796
Email: karen.lai@hboasia.com
Cheryl Foong
Manager, Communications
Tel: (65) 6381 1838
Email: cheryl.foong@hboasia.com
Chan Zi Ning
Executive, Communications
Tel: (65) 6381 1746
Email: zining.chan@hboasia.com