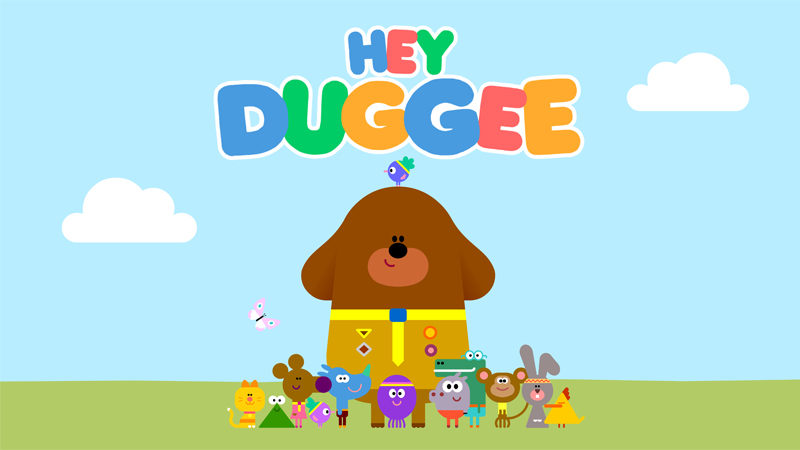 15.01.2018: CBeebies BAFTA and International Emmy® Award-winning preschool series Hey Duggee is celebrating after passing one billion video views in China.
The show launched in China on Tencent, iQiyi, and Youku in January, April and May 2017 respectively and in less than a year has hit over one billion combined video views across all three streaming platforms.
Harriet Newby-Hill, Global Brand Director – Children's at BBC Worldwide, said: "We are enormously proud that Hey Duggee has reached such a milestone in China. The show continues to grow in popularity around the globe and with series three on the horizon we can't wait to see what further successes 2018 holds."
Kelvin Yau, General Manager for China, said, "Hey Duggee is one of the happiest shows on kids' TV and children in China love it for its fun approach to learning, having a go and trying new things. This and the show's inclusive nature, as well as playful nods to popular culture, has made it very appealing to parents too. Everyone loves Hey Duggee!"
Hey Duggee is a Studio AKA production with BBC Worldwide and Henrietta Hurford-Jones, Director of Children's Content at BBC Worldwide is Executive Producer. The series launched on CBeebies in the UK in 2015 and has quickly grown its international footprint to cover 150 territories. In addition to China, these include Nick JR in the US, France Television, ABC Australia, SVT Sweden, Treehouse in Canada, Cartoonito in Italy and Panda in Spain.
News of one billion video views in China follows two BAFTA award wins for the brand in November for Pre-School Animation and the Hey Duggee We Love Animals app, which won the Interative category. Downloads for all Hey Duggee apps surpassed one million worldwide in February 2017 as well.
It is not only Hey Duggee increasing numbers of Chinese children are tuning into. On iQIYI alone, CBeebies content has been viewed over 604 million times since the provider became the first digital platform in China to offer a 'block' of 37 CBeebies titles branded under 思贝斯 (sī bèi sī) in May 2017. This comes after iQIYI licensed 300 hours of children's content from BBC Worldwide last year including Go Jetters Dinopaws and Sarah & Duck.
Hey Duggee has been commissioned for a third series which is expected to transmit on CBeebies in the UK in autumn 2018 before becoming available in other markets.
ENDS
For more information, please contact:
Jeanne Leong
BBC Worldwide
Tel: +65 6849 5292
Email: Jeanne.Leong@bbc.com
Jessie Lim
BBC Worldwide
Tel: +65 6849 5295
Email: Jessie.Lim@bbc.com
About Hey Duggee
Hey Duggee is one of the happiest, most fun shows on kids TV! Duggee, a huggable dog, is the leader of The Squirrel Club, a place where kids (known as the Squirrels) can go to have adventures, try new things and earn badges. Loved by both girls and boys (and much adored by parents too!), Hey Duggee inspires children to be energetic, work as a team and take risks in a safe, happy environment. Fun can be found in all aspects of Hey Duggee: the stories, the bright aesthetic, the cheerful music and the narration by comedian Alexander Armstrong. Special moments in every episode see the Squirrels rewarded with a badge for their efforts and ending with a big "Duggee Hug". BAFTA and international Emmy® winning Hey Duggee brings smiles, laughter and hugs into a pre-schooler's day like no other TV show can.
About BBC Worldwide
BBC Worldwide is a principal commercial arm and a wholly owned subsidiary of the British Broadcasting Corporation (BBC). Its vision is to build the BBC's brands, audiences, commercial returns and reputation across the world. This is achieved through investing in, commercialising and showcasing content from the BBC around the world, in a way that is consistent with BBC standards and values. The business also champions British creativity globally.