HKT (SEHK: 6823) – HONG KONG, May 4, 2017 – HKT is pleased that it has won the Gold Award in the media and communications sector at the Hong Kong Awards for Environmental Excellence (HKAEE) 2016.
The award was presented to HKT's Group Managing Director Mr. Alex Arena by Mr. Leung Chun-ying, Chief Executive of the Hong Kong Special Administrative Region, today at the Hong Kong Convention and Exhibition Centre.
HKT is committed to protecting the environment while providing valuable services to society. For example, HKT has been continuously replacing conventional air-conditioning cooling systems with water-cooled chillers at exchange buildings to save energy. In partnership with CLP Holdings Limited, HKT has formed a joint venture, Smart Charge (HK) Limited, to provide electric vehicle charging solutions and promote electric mobility for a cleaner environment in Hong Kong. To reduce electronic waste, HKT collects old mobile phones for recycling or donating to non-governmental organizations and Government-endorsed contractors for redistribution to the underprivileged or for responsible disposal as e-waste.
Led by the Environmental Campaign Committee alongside the Environmental Protection Department and in conjunction with nine organizations, the HKAEE is an annual award which aims to encourage organizations to implement environmental management, to measure organizations' performance on their commitment to environmental management, and to recognize organizations with excellence performance on environmental management. HKT was also given the Gold Award in the media and communications sector in the HKAEE 2014.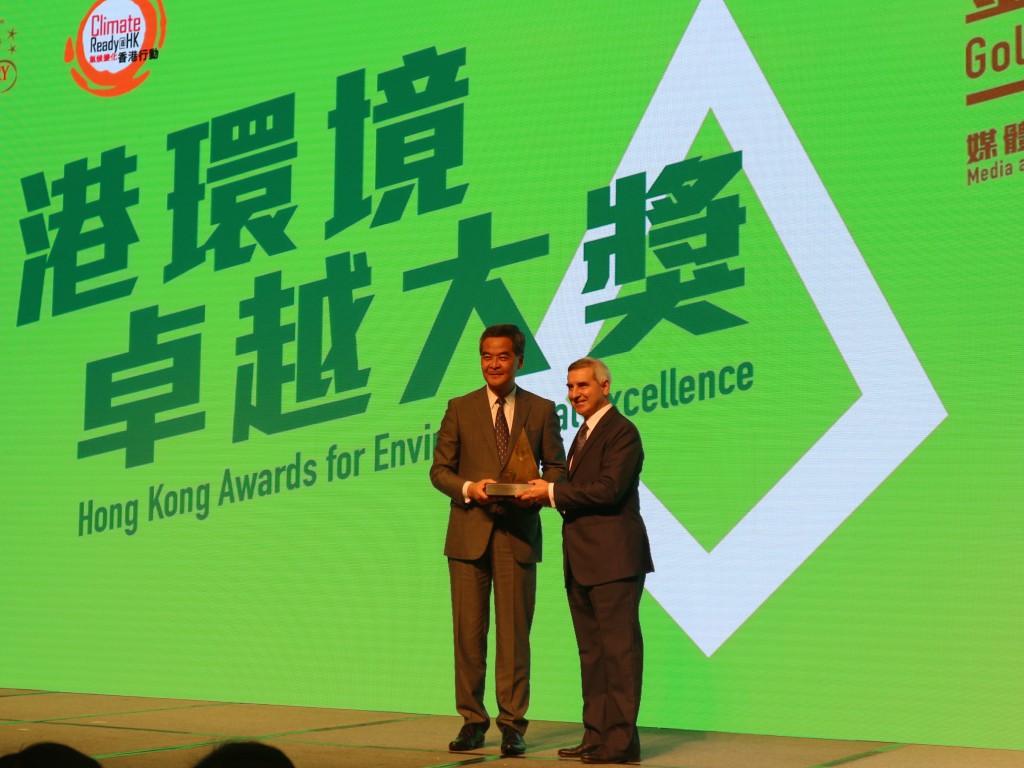 Mr. Alex Arena, Group Managing Director of HKT (right), receives the award from Chief Executive Mr. Leung Chun-ying.
About HKT
HKT (SEHK: 6823) is Hong Kong's premier telecommunications service provider and leading operator in fixed-line, broadband and mobile communication services. It meets the needs of the Hong Kong public and local and international businesses with a wide range of services including local telephony, local data and broadband, international telecommunications, mobile, and other telecommunications businesses such as customer premises equipment sales, outsourcing, consulting, and contact centers.
HKT offers a unique quadruple-play experience in Hong Kong delivering media content on its fixed-line, broadband Internet access and mobile platforms jointly with its parent company, PCCW Limited.
HKT also provides a range of innovative and smart living services beyond connectivity to make the daily lives of customers more convenient, whether they are at home, in the workplace, or on the go. For more information, please visit www.hkt.com.
For more information, please contact:
Stella Wong Group Communications Tel: +852 2888 2253 Email: stella.wm.wong@pccw.com
Ivan Ho Group Communications Tel: +852 2883 8747 Email: ivan.wy.ho@pccw.com
Issued by HKT Limited.