Thank you in advance for citing Kagan, a group within S&P Global Market Intelligence, should you choose to use any of this information in your reporting.
As competition heats up, virtual service providers such as Hulu LLC's Hulu with Live TV, AT&T Inc.'s DIRECTV NOW and Sony Corp.'s PlayStation Vue are racing to add live local stations to bolster channel lineups and lock in subscribers.
Kagan, a group within S&P Global Market Intelligence, has examined the streaming sector to gauge the reach of ABC, CBS, FOX and NBC in the space. The analysis is based on the most recent company reports and public information for select VSPs, including Hulu with Live TV, DISH Network Corp.'s Sling TV, Sony's PlayStation Vue, AT&T's DIRECTV NOW, Alphabet Inc. unit Google Inc.'s YouTube TV, FuboTV and CBS Corp.'s over-the-top service CBS All Access.
• Affiliates are opting into streaming deals more rapidly in large part due to the big four networks' blanket arrangements that allow the affiliates to opt in to these streaming deals.
• Hulu has grown its total household reach of live local stations by 17.8% from 87.4 million U.S. households, or 71.5% of total U.S. households, to nearly 103.0 million, or 84.1% of total U.S. households.
• DIRECTV NOW has added 56 new livestreaming big four stations to its platform since our July analysis, now totaling 149. The service added 17 ABC affiliate stations, seven NBC stations and 17 FOX stations since the end of July.
• Additional findings on YouTube TV, FuboTV, Sony PlayStation Vue, Sling TV and more can be found in the full analysis.
Link to full analysis: https://www.snl.com/web/client?auth=inherit#news/article?id=42235307&cdid=A-42235307-13361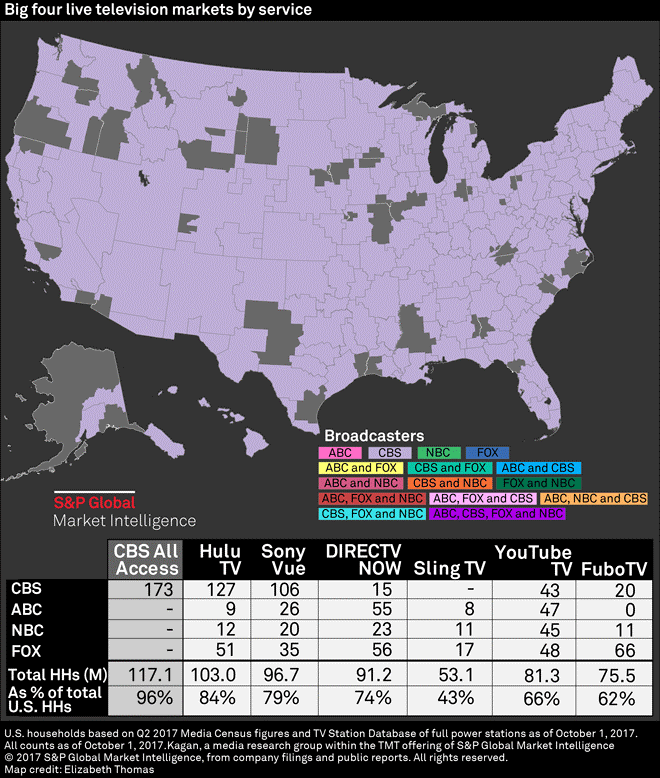 Farhan Husain
External Communications Manager
S&P Global | Market Intelligence
55 Water Street
New York, NY, 10041
T: 212-438-3271
farhan.husain@spglobal.com
www.spglobal.com