Mumbai, August 8, 2017: On its 11th anniversary, Tata Sky the fastest growing brand in the DTH industry and a pioneer of innovative services, introduced Tata Sky Blogbuster – Tata Sky's first ever official blog. The blog will bring to you interesting and engaging content and story-telling in the field of entertainment.
Tata Sky Blogbuster will cover original and exclusive pieces of content on trending topics in the field of movies & television entertainment. The topics on the blog range from Lifestyle, Sports, Entertainment, Regional content, Self-help and DIY too. The blog will also keep its viewers entertained and engaged through videos, interactive games, listicles and much more.
Over the last 11 years, Tata Sky has revolutionised Indian home entertainment by ensuring to bring pioneering experiences to customers that not only delight but also ease their ways of life. Features such as PVR (Personal Video Recorder) set-top box, to first ever Daily Recharge vouchers or DIY (Do-It-Yourself) videos and an array of successful interactive services have established Tata Sky as a brand to eagerly look forward to. Therefore, living up to its promise of offering Indian subscribers a world-class television viewing experience, through its satellite television service.
Be sure to check us at http://blogbuster.tatasky.com/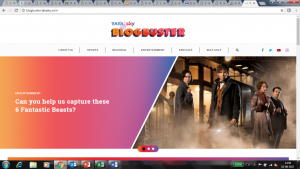 About Tata Sky
Tata Sky Limited ('Tata Sky') is a joint venture between the Tata Sons and 21st Century Fox. Incorporated in 2001 and launched services in 2006, Tata Sky is India's leading content distribution platform providing Pay TV and OTT services. With the objective of connecting to the best content in the world on any budget, any screen, anytime and anywhere, Tata Sky was the first to launch multiple products and services that redefined the subscribers viewing experience in the country.
Tata Sky has been a pioneer in the HD Set top box segment having significant market share in the category. It has been continuously adding new channels and platform services across various genres and languages to beef up its content offering to cater to all segments of the audience. Tata Sky currently has its footprints spread across 1.5 lakh towns with over 17 million connections in India.
For more information on Tata Sky, visit www.tatasky.com
For Further information contact:
Tata Sky:
Nida Paloba – 09821017561
Nida.paloba@tatasky.com
Aditya Ravi – 09821299550
Aditya.ravi@tatasky.com
Adfactors PR:
Arun Thankappan – 09930860706
arun.thankappan@adfactorspr.com
Gaurav Bhat – 09833057592
gaurav.bhat@adfactorspr.com