Shooting for Season 2 scheduled for early in 2018, broadcast in 2018
Produced by TNT Serie and Wiedemann & Berg Television
HONG KONG: 26 September, 2017 – From Berlin-Neukölln out into the world! More than 1.5 million viewers watched the Hamady clan's battle for control of their 4 Blocks in the award-winning TNT Serie Original.
Now the Berlin gangster drama will be available worldwide. From 4 October, Amazon Prime Video will offer the TNT Serie Original in more than 150 countries, including Asia Pacific.
Hannes Heyelmann, Turner's Senior Vice President and Managing Director, Central & Eastern Europe and International Original Programming Strategy: "With 4 Blocks, we took the risk of financing a series almost entirely on our own, and also handling distribution sales for the first time. We believe we have found ideal partners with Amazon Prime Video and ZDFneo to make the series available globally via on-demand as well as on German free-to-air TV. These sales prove that our strategy of telling stories that are clearly locally rooted also work in international sales, and they enable us to invest even more in our productions going forward."
Both deals were brokered by Lisette Schlippe, Director Content Licensing for Turner in Central & Eastern Europe and Canada.
4 Blocks was produced by TNT Serie and Wiedemann & Berg. The six-part series premiered at Berlinale in February and has since been screened at numerous festivals worldwide. Kida Khodr Ramadan won the Best Actor award at the Séries Mania Festival in Paris for his performance in the series. A second season is already in the pipeline, with shooting planned for this winter, and broadcast later in 2018.
-ENDS-
Contact
James Moore, Director of Communications, Turner Asia Pacific
+852 3128-3720
About Turner International
Turner International operates versions of core Turner brands, including CNN, TNT, Cartoon Network, Boomerang and TCM Turner Classic Movies, as well as country- and region-specific networks and businesses in Latin America, Europe, the Middle East, Africa and Asia Pacific. It manages the business of Pay- and Free-TV-channels, as well as Internet-based services, and oversees commercial partnerships with various third-party media ventures; it teams with Warner Bros. and HBO to leverage Time Warner's global reach. Turner operates more than 180 channels showcasing 43 brands in 34 languages in over 200 countries. Turner International is a Time Warner company.
Season 1 of 4 Blocks
The first season of 4 Blocks was broadcast on TNT Serie on Mondays at 9pm and started on 8 May. In six episodes, it tells a story of betrayal and guilt, friendship and family in an Arab family in the Neukölln district of Berlin. It centres around Ali 'Toni' Hamady (Kida Khodr Ramadan) who, together with his wife Kalila (Maryam Zaree), wants to leave his 'four blocks' and put criminal activities behind him. But after his brother-in-law Latif (Massiv) is arrested in a raid, Toni owes it to his family to take over operational leadership of the clan again. Besides, Toni doesn't want to hand control to his unpredictable brother Abbas (Veysel Gelin), who already sees himself as the new head of the family. When an old friend, Vince (Frederick Lau), suddenly returns to Berlin, Toni believes he has someone he can trust at his side, and the hope of a lawful future seems to be within reach once more. But it's far too late for an escape from the downward spiral of crime and intrigue.
4 Blocks was developed by TNT Serie and Wiedemann & Berg, writers Hanno Hackfort, Bob Konrad, and Richard Kropf, as well as director and writer Marvin Kren (Mordkommission Berlin 1, Rammbock). Moritz Schultheiss was the cinematographer, Quirin Berg, Max Wiedemann, Eva Stadler, and Karsten Rühle the executive producers, as well as – on the broadcaster's side – Anke Greifeneder and Hannes Heyelmann.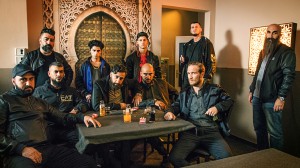 Copyright: © 2017 Turner Broadcasting System Europe Limited & Wiedemann & Berg Television GmbH & Co.