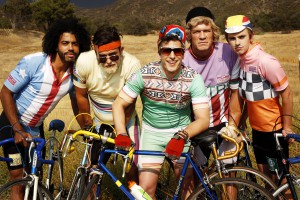 Watch trailer here
SINGAPORE, JUNE 19, 2017 – In 1982, during a dark and fictitious time in cycling history, the sport's most venerable, time-honored race was marred by the doping of virtually all of its competitors. Riddled with nefarious characters, that year's competition was a hornet's nest of moral depravity. Through the perspective of five riders, TOUR DE PHARMACY gives an inside look into the grim realities of the darkest event in a sport notoriously tainted by controversy.
Starring and executive produced by Andy Samberg ("Brooklyn Nine-Nine"; HBO's "7 Days In Hell"), and written and executive produced by Murray Miller ("King of the Hill"; HBO's "Girls"), this fictional, none-too-serious look at that sordid event debuts Sunday, July 9 at 10pm (SIN), exclusively on HBO. The special will also be streaming on HBO GO.
Among the notables making appearances in TOUR DE PHARMACY are: John Cena, Daveed Diggs, Orlando Bloom, Freddie Highmore, Jeff Goldblum, Danny Glover, Julia Ormond, Dolph Lundgren, James Marsden, Kevin Bacon, Nathan Fielder, Will Forte, Maya Rudolph, Joe Buck, Mike Tyson, J.J. Abrams, Phylicia Rashad, Chris Webber, Adewale Akinnuoye-Agbaje and Lance Armstrong.
TOUR DE PHARMACY marks Samberg and Miller's second collaboration for HBO under their Legends of Sport banner, following the 2015 mockumentary "7 Days In Hell," which was called a "bawdy, outlandish skewering of tennis" by the New York Times, and "strange and splendid" by the Los Angeles Times.
The special is helmed by returning director Jake Szymanski; written by Murray Miller; executive producers, Andy Samberg, Murray Miller, David Bernad; produced by M. Elizabeth Hughes; co-executive producer, Jake Szymanski.
# # #
About HBO ASIA
Singapore-based HBO Asia brings the best of Hollywood to Asia first through its exclusive licensing deals with major Hollywood and independent studios, including Paramount Pictures, Sony Pictures, Universal Studios, Warner Bros. and Lionsgate. HBO Asia has proprietary and award-winning HBO and HBO Asia Original programmes that are produced exclusively for HBO viewers. Wholly owned by HBO (a Time Warner company), HBO Asia reaches 23 territories across Asia and offers a bouquet of channels and services including 24-hour commercial-free subscription movie channels in standard-definition and high-definition – HBO, HBO SIGNATURE, HBO FAMILY, HBO HITS, CINEMAX and RED by HBO – as well as HBO GO and HBO ON DEMAND. HBO Asia is also the exclusive distributor of BabyFirst and the DreamWorks channel in Asia. Log on to www.hboasia.com for more information.
For more information, please contact HBO Asia:
Karen Lai
Senior Director, Communications
Tel: (65) 6381 1796
Email: karen.lai@hboasia.com
Cheryl Foong
Manager, Communications
Tel: (65) 6381 1838
Email: cheryl.foong@hboasia.com
Chan Zi Ning
Executive, Communications
Tel: (65) 6381 1746
Email: zining.chan@hboasia.com