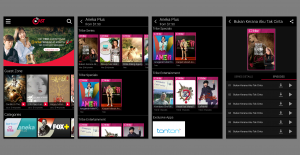 Tribe is now available in three markets with more than 1 million downloads
9 June 2017, Kuala Lumpur – Tribe, the Astro Malaysia owned online video service provider, available in Indonesia and the Philippines, is pleased to announce its third market, Singapore in partnership with Singtel, Singapore's largest telecommunications company. Singtel's OTT video portal app – Cast – will carry Tribe's on-demand content via the Aneka Plus pack, which features Malay programs from various content providers, including Astro Malaysia.
Tribe's content strategy is to curate content offerings tailored to each individual market. Tribe, through its standalone app in Indonesia and Philippines offers a range of live and on demand content across live sports, Korean drama, Anime, eSports, and Asian movies. In Singapore, Tribe aims to fulfil the current unmet demand for Malay content in the digital space.
"Our approach to every market is unique and this partnership with Singtel is a landmark first for Tribe as we explore different GTM models," said Iskandar Samad, Chief Executive Officer of Tribe Limited.
"Singtel is the market leader in mobile with a strong Malay base across prepaid and postpaid segments. Astro, on the other hand, is unrivalled in its production of premium original Malay content. Singtel's Cast will be an effective channel to connect a strong customer base with relevant quality content. Singapore is a well-developed and exciting Asian market with robust monetisation opportunities and we look forward to leveraging this as a learning opportunity to gain better understanding of market dynamics before we consider launching a standalone OTT product as we have done in other markets."
In conjunction with the fasting month, Tribe will release several Ramadan specials including 'Imam Mudaku Romantik', 'Tolong Aku Nak Puasa' and 'Resepi Memikat Suami'. 'Hero Seorang Cinderella' featuring Fattah Amin and Fazura will also be available on Cast. Other highlights include top rated Malay dramas and telemovies such as 'Suri Hati Mr. Pilot', 'Bukan Kerana Aku Tak Cinta' and 'Cinta Paling Agung' featuring popular celebrities Aaron Aziz, Neelofa, Sharnaaz Ahmad, Nelydia Senrose and more. Other genres offered include variety, lifestyle programs and catch up of live programs.
Tribe is available on the Aneka Plus pack via the Cast app for a monthly subscription of SGD7.90 with a 12-month contract. At launch, Singtel is offering three months' free subscription with the 12-month contract. For more information about Tribe on Cast, visit cast.sg/anekaplus.
###
About Tribe
Tribe Limited, a subsidiary of Astro Malaysia Holdings Berhad (Astro) offers an over-the-top ("OTT") service for ASEAN video consumers. Tribe is all about building a community of fans around the most popular content genres, particularly in the younger demographic. Today's consumers are highly mobile and socially connected and Tribe intends to build a relevant social connection between users through the content they watch. Tribe will be mobile-first, allowing consumption anytime, anywhere. It will deliver highly tailored content, combining both live and on demand and aims to provide the most compelling content that will resonate with consumers in each target market. Tribe is currently available in Singapore, Indonesia and the Philippines. For more information, go to www.tribenow.tv
Media Contact:
Tammy Toh
Head/Vice President, Communications
Astro
Tel: +603-9543 6688 EXT:2046
Email: tammy_toh@astro.com.my
Azaria Loh
Assistant Vice President, Communications
Astro
Mobile: +6019 668 2278
Email: azaria_loh@astro.com.my