JV Co to focus on creating and monetising content verticals in Malaysia and Nusantara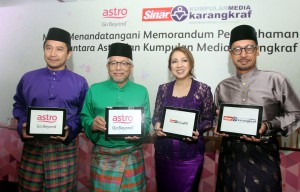 9 June 2017, Kuala Lumpur – Astro Malaysia Holdings Berhad ("Astro") and Kumpulan Media Karangkraf Sdn Bhd ('Karangkraf") today entered into a Memorandum of Understanding ("MoU") to form a joint venture company ("JV Co") for the creation and monetisation of content verticals in Malaysia and the Nusantara region.
Dato' Rohana Rozhan, Group Chief Executive Officer of Astro said, "At core of this collaboration, we aim to pursue co-creation of a comprehensive line up of content IPs across Malay and Islamic verticals. The on-going trend of digital media consumption, paid or ads-supported, has expanded Astro's addressable audience base in Malaysia considerably from households to individuals. Serving this diverse audience across a range of windows from theatrical, to TV, to digital and commerce, requires a wider breadth of IPs in order to satisfy the unique needs of each consumer segment. Ownership of these IPs allows us to maximise monetisation potential from licensing, Adex, subscriptions and commerce, while at the same time anchor a long-term sustainable role for us in the media value chain.
We also see a rising demand for fresh and differentiated vernacular content across the Nusantara region, partly due to the proliferation of direct-to-consumer OTT platforms. In order to position ourselves as a key player in this space we are strengthening our investments in signature vernacular and ASEAN IPs, to be more relevant to a regional audience. Karangkraf is an established leading creative force amongst the Malay speaking community across its media assets and we are pleased to announce our partnership with Karangkraf to develop a strong line-up of content IPs and brands jointly together. This partnership brings together two entities with like-minded vision, leveraging on each other's strength to unlock new business opportunities to create Nusantara IPs that can travel not only in Malaysia but regionally."
Dato' Hussamuddin Hj. Yaacub, Chief Executive Officer of Karangkraf said, "The Karangkraf Group looks forward to a deeper cooperation with Astro, having worked on many campaigns previously, such as Projek Ngaji, Quran Hour and so on. With our combined reach, Astro is the right strategic partner to position our content IPs across multi platforms of TV, OTT and digital in Malaysia and beyond. The JV Co will enable our group to have an equity in a Malay content powerhouse with regional aspiration as well as diversify into new businesses and accelerate digital innovation."
Today, the content industry in in the Nusantara region command a total addressable market of RM48 billion, which makes local vernacular and ASEAN content IPs, the new premium. Astro and Karangkraf hope its win-win collaboration will bring together complementary strengths in creating a content IP pipeline as well as a culture of innovation and distribution to tap on the growing industry.
The Astro-Karangkraf partnership is consistent with Astro's strategic imperative of co-owning content IPs that have regional appeal, and towards the group's aspiration of becoming a leading Asean content creator, aggregator and distributor. Today, Astro is in 71% of Malaysian households, serving 21 million individuals on all screens, at home, live, on the go and on demand while Karangkraf has 15 million readers across its print, magazine publications and online media assets.
###
Media Contact:
Tammy Toh
Vice President, Group Communications
Astro
Mobile: +6012 322 5184
Email: tammy_toh@astro.com.my