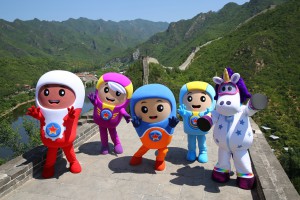 On 1 June, the Go Jetters jetted to China with their teacher Ubercorn to celebrate Children's Day. As part of the Children's Day Gala 2017 organised by state broadcaster China Central Television's children's channel (CCTV-14), the four plucky heroes Xuli, Kyan, Lars and Foz and mentor Ubercorn danced in a character parade and took part in a live-stream interview. The Gala was broadcast to an audience of 110 million, and saw over 200 million streams on mobile streaming platforms in China like iQIYI in one evening – triple the viewership record of the previous year.
Our intrepid Go Jetters also climbed the Great Wall of China to inspect the wonderful world famous landmark that they had previously saved from the mischievous Grandmaster Glitch in series one, episode 11.
In China, besides state children's channel CCTV-14, Go Jetters is available to young audiences in China on IPTV platform BesTV and on the online platform iQIYI. The show will also be available to watch on digital platforms Tencent and Youku at the end of August.
Go Jetters follows the adventures of four plucky heroes, Xuli, Kyan, Lars and Foz, as they travel the world with their teacher, mentor and friend, Ubercorn, a funky disco-grooving unicorn. A comedy, action adventure for 4-6 year olds, Go Jetters combines music, cool gadgets and disco-dancing to introduce the audience to geography and culture. Filled with comedy, teamwork, awesome sights, and funky facts, each episode offers older pre-schoolers a fun-filled and action packed exploration of their wider world.
Go Jetters has become a huge hit with boys and girls across the globe, with series one selling to over 90 territories and a second series of the animation is now in production. In the UK, Go Jetters was ranked number one for its pre-school launch on CBeebies in 2015 and has since reached a cumulative audience of 10 million viewers on linear television. New episodes on CBeebies in February 2017 peaked with an impressive 630,500 viewers. Overseas, Go Jetters consistently ranks in top 5 children's titles for ABC2 in Australia and is also a top performing brand for France 5 outperforming its slot average share by 7% (A4+) in first two weeks, as well as rating as the number one show for children 4 to 10. Ratings in Canada have been particularly strong with the series jetting off to a very promising start on Treehouse with the show rating as number one for children between 2 and 11.
-Ends-
For more information, please contact:
Jeanne Leong
BBC Worldwide
Tel: +65 6849 5292
Email: Jeanne.Leong@bbc.com
Jessie Lim
BBC Worldwide
Tel: +65 6849 5295
Email: Jessie.Lim@bbc.com
NOTES TO EDITORS
About BBC Worldwide
BBC Worldwide is the main commercial arm and a wholly owned subsidiary of the British Broadcasting Corporation (BBC). Its vision is to build the BBC's brands, audiences, commercial returns and reputation across the world. This is achieved through investing in, commercialising and showcasing content from the BBC around the world, in a way that is consistent with BBC standards and values. The business also champions British creativity globally.
In 2015/16 BBC Worldwide generated headline profits of £133.8m and headline sales of £1,029.4m and returned £222.2m to the BBC.
For more detailed performance information please see our Annual Review webpage: bbcworldwide.com/annual-review/.