www.startv.com to narrate Star India's incredible stories of change and elicit bold new ideas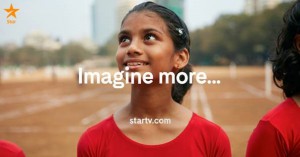 Mumbai, 13 June 2017: Star India, one of the nation's leading media conglomerates, has been on a mission to not just entertain India, but also bring about social change through its thought-provoking programming. From innovating entertainment, promoting gender equality, creating a multi-sport culture to shaping the digital landscape, Star has been tireless in its journey to bring alive its mission of 'Inspiring a Billion Imaginations'. To take this journey forward, Star India has revealed a brand new vehicle – its interactive website, www.startv.com.
An inspiring storytelling platform, the new website adds a fresh dimension, Imagine more… to Star India's empowering vision. This mobile-first, immersive and engaging storytelling platform is an expression of how Star India is championing change through the power of media. Star India has partnered DesignStudio, a global brand agency, to distill its Chairman & CEO Uday Shankar's vision of "enabling, empowering and stimulating everyone to find his or her own answers; answers shaped by their own imagination." The idea influences the website's search filters, structure, content and photography – every aspect of the digital experience was created to make people Imagine more… Engaging user experience, interactive content, rich vivid stories and an open-to-all 'Pitch Your Idea' initiative, form some of the pillars of www.startv.com.
To bring Star India's stories to life, DesignStudio travelled to India for a photoshoot that spanned the country. It went behind the scenes and beyond the shows to capture the impact of Star India's work in everything from transforming the village game of Kabaddi into an elite sporting league, to its social initiatives tackling violence against women.
Gayatri Yadav, President, Consumer Strategy and Innovation, Star India, said, "At Star, our mission has been to 'Inspire a Billion Imaginations' and the website brings this mission to life. It seeks to inspire and instigate each and every individual to unlock their potential of limitless possibilities. Imagine more… articulates how we take this mission forward and creates a powerful new storytelling address. This is a new home for Star's incredible stories of change, inspiration, and bold ideas."
James Hurst, Executive Creative Director, DesignStudio, said, "Our role is often to sift for the magic. Star is very unusual, there is magic everywhere! It has been (and continues to be) an absolutely inspiring rollercoaster getting to understand the breadth and depth of their impact on society and their hopes and ambitions for such an exciting and extraordinary future. We are thrilled with the work so far, and can't wait for what happens next."
You can also download and print this press release from our website – www.startv.com
About Star India:
Star India has defined the Indian media landscape since 1991 and today is one of the country's leading media conglomerates, reaching approximately 650 million viewers a month across India and more than 100 other countries. Star generates 20,000 hours of content every year and broadcasts 50+ channels in 8 different languages, reaching 9 out of 10 C&S TV homes in India.
The network's entertainment channel portfolio includes Star Gold, Channel V, Star World, Star World Premiere HD, Star Movies, Star Movies Select HD, Star Utsav, Star Utsav Movies, Life OK, Movies OK and Star Plus, India's No. 1 Hindi General Entertainment Channel. It has a leading presence in regional broadcasting as well, through a bouquet of channels which include Star Jalsha, JalshaMovies, Star Pravah, Maa channels and affiliate channels Asianet, Asianet Plus, Asianet Movies, Suvarna, Suvarna Plus and Vijay. It is also present in the Indian movie production and distribution space through Fox StarStudios, an affiliate joint venture company.
Star India is making quantum leaps in transforming sports in the country by leveraging the group's strengths in superior content and audience engagement. Star's sports business has grown rapidly to 10 channel properties (StarSports 1, 2, 3, 4; Star Sports HD1, HD2, HD3, HD4 and Star Sports Select HD1, Select HD2), making it the leading sports network in the country.
Star is set to drive the agenda on digital content consumption in the country with Hotstar, Star's revolutionary digital platform that brings your favourite TV shows, movies and sports in one destination.
Star India is a fully owned subsidiary of 21st Century Fox.
For further information:
corporateaffairs@startv.com
Jay Desai / Pavan R Chawla
Adfactors PR
jay.desai@adfactorspr.com / pavan.chawla@adfactorspr.com
+91 22 67574150/67574342
+91 9820060107/9819293932