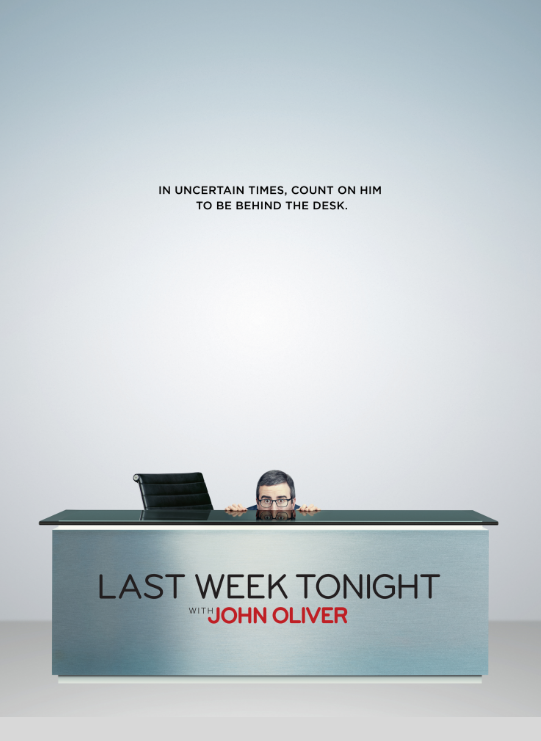 Other HBO Originals Premiering in February include Brand-New Series BIG LITTLE LIES and CRASHING
SINGAPORE, FEBRUARY 15, 2017 – The latest season of the Emmy®-winning show, LAST WEEK TONIGHT WITH JOHN OLIVER premieres in Asia this Saturday, February 18 at 11:45pm on CINEMAX. Presenting a satirical look at the week in news, politics and current events, as well as addressing broader issues, the fourth season of the weekly news-oriented comedy series is executive produced by John Oliver, Tim Carvell, Liz Stanton, Jon Thoday, James Taylor. New episodes debut every Saturday night after the 10pm movie and the series is also available on HBO GO.
Other HBO Originals Premiering In February
The seven-episode limited drama HBO Original series, BIG LITTLE LIES, premiers same time as the U.S. on Monday, February 20 at 10am with a same day primetime encore at 9pm exclusively on HBO. Based on Liane Moriarty's bestselling book of the same name, this subversive, darkly comedic drama tells the tale of three mothers of first-graders whose seemingly perfect lives unravel to the point of murder. Starring Reese Witherspoon, Nicole Kidman, Shailene Woodley, Alexander Skarsgard, Laura Dern, Adam Scott, Zoe Kravitz, James Tupper and Jeffrey Nordling, BIG LITTLE LIES is directed by Jean-Marc Vallée from scripts by David E. Kelley.
The brand-new eight-part HBO Original comedy series CRASHING debuts exclusively on HBO the same time as the U.S. on Monday, February 20 at 11.30am with a same day primetime encore at 10.30pm. The show was created by and stars Pete Holmes as a standup comic who discovers that his wife is unfaithful, leading him to reevaluate his life amidst the New York City comedy scene. Artie Lange, Lauren Lapkus and T.J. Miller also star. Executive produced by Judd Apatow and Pete Holmes.
The sixth and final season of GIRLS premiered on HBO this week. New episodes of this ten-part series will air on HBO every Monday at 10pm. Created by and starring Lena Dunham, the Emmy®-winning comedy series is a comic look at the assorted humiliations and rare triumphs of a group of girls in their 20s. Dunham executive produces along with Judd Apatow, Jenni Konner, Ilene S. Landress, Murray Miller and Bruce Eric Kaplan. The cast also includes Allison Williams, Jemima Kirke, Zosia Mamet, Adam Driver, Alex Karpovsky, Andrew Rannells and Ebon Moss-Bachrach.
All the above series will also be available on HBO GO.
#          #          #
About HBO ASIA
Singapore-based HBO Asia brings the best of Hollywood to Asia first through its exclusive licensing deals with major Hollywood and independent studios, including Paramount Pictures, Sony Pictures, Universal Studios, Warner Bros. and Lionsgate. HBO Asia has proprietary and award-winning HBO and HBO Asia Original programmes produced exclusively for HBO viewers. Wholly owned by HBO (a Time Warner company), HBO Asia reaches 23 territories across Asia with six 24-hour commercial-free subscription movie channels: HBO, HBO Signature, HBO Family, HBO Hits and Cinemax, as well as Red by HBO, internet streaming platform, HBO GO, subscription video on demand service, HBO On Demand, and in China, 鼎级剧场 (ding ji ju chang). HBO Asia is also the exclusive distributor of BabyFirst and the DreamWorks channel in the region. Log on to www.hboasia.com for more information.
HBO, Home Box Office and HBO Asia Originals are service marks of Home Box Office, Inc.