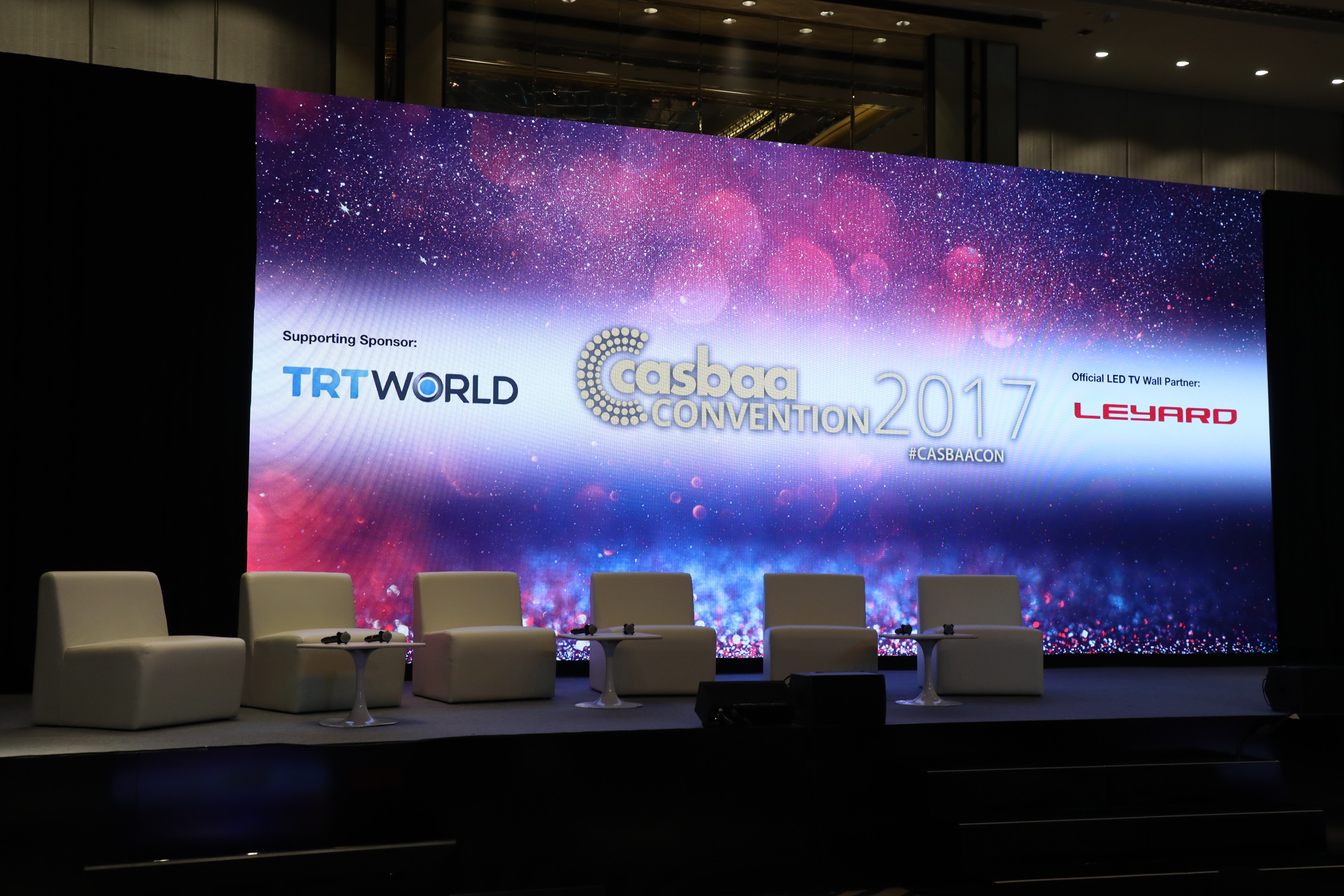 CASBAA Convention 2017
The CASBAA Convention 2017, which was held on 6-8th November, returned to Macau Studio City for a second year. This year we invited 74 speakers to participate in 34 sessions, and we welcomed more than 500 attendees and industry experts to this flagship event of the year. The closing party on November 8th was blessed with good weather which brought the CASBAA Convention 2017 to a successful ending.
You can view the photos of Convention here. Don't want to miss out again? Mark your schedule for 2018 now.
CASBAA would like to thank CASBAA Convention 2017's Supporting Sponsor, TRT World, along with our other Sponsors:
21st Century Fox, ABS, Amagi, APT Satellite, ARRIS, AsiaSat, Australia Channel, Brightcove, Cisco, CMS Cameron McKenna Nabarro Olswang, Deutsche Welle, The Walt Disney Company, FashionTV, FOX Networks Group, France 24, Friend MTS, Google, Intelsat, INVIDI Technologies, Irdeto, Leyard, Lighting International, MEASAT, MPP Global, NAGRA, SES, True Visions, Turner Asia Pacific, TV5MONDE, Viaccess-Orca, Vindicia and Viu.
We would also like to thank CASBAA Patrons: A+E Networks, Astro, BAM Asia Enterment Network, BBC Worldwide, Celestial Tiger, Discovery Networks Asia-Pacific, Star India and Viacom International Media Networks.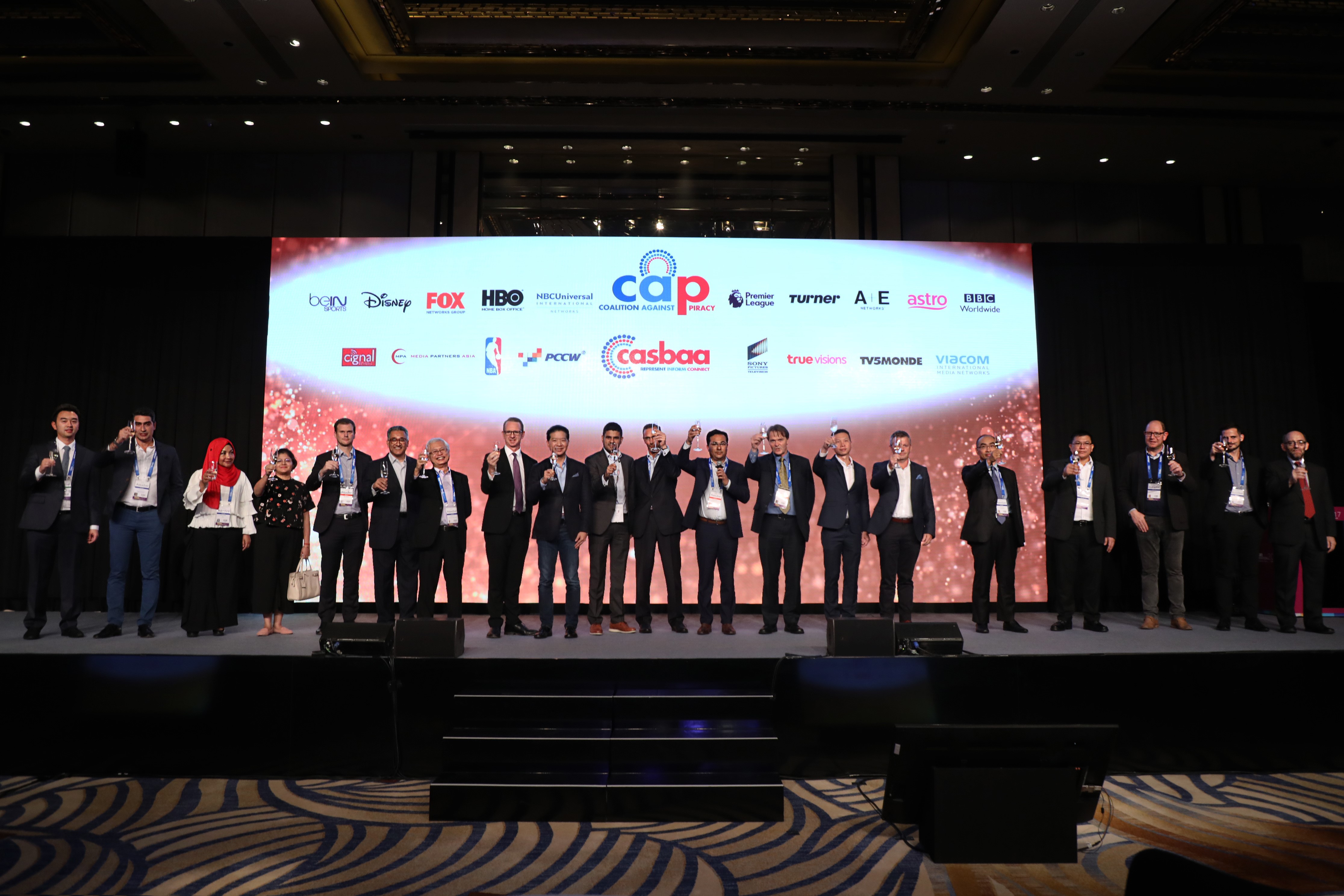 PHOTO: The Coalition Against Piracy members toast the launch of CAP (L-R): Jason Chan, CAP; Paras Sharma, Viacom International Media Networks; Laila Saat, ASTRO; Malobika Banerji, A&E Networks; Kevin Plumb, Premier League; Nirav Haji, Sony Pictures Television Networks Asia; Lawrence Yuen, HBO Asia; Joe Welch, CASBAA Chairman; Birathon Kasemsri, True Visions; Amit Malhotra, The Walt Disney Company; Alexandre Muller, TV5MONDE; Rohit d'Silva, Fox Networks Group; Neil Gane, CAP; Chih Yeong Voo, Turner Asia-Pacific; Mike Kerr, beIN Asia Pacific; Keith Huang, PCCW Media; Erwin Galang, Cignal TV; Gidon Freeman, NBCUniversal; Jake Smart, National Basketball Association and John Medeiros, CASBAA. Not represented on stage were BBC Worldwide and Media Partners Asia.
The launch of CASBAA's new anti-piracy group, Coalition Against Piracy (CAP)
Members and supporters of the newly-established Coalition Against Piracy gathered at the annual CASBAA Convention in Macau on November 7th to mark the initiation of joint work in southeast Asia against Illicit Streaming Devices (ISDs) and the app networks that underpin them.
In toasting the launch, Birathon Kasemsri, Chief Commercial Officer, True Visions Group said "Piracy is an international issue that cannot be dealt with by a single entity or country alone. It cannot be dealt with by a single platform alone. It must be a coordinated, integrated effort. We need to create an environment where we can grow and prosper. I invite you to put all your efforts together to make CAP the new initiative in the region a huge success – because we can only prosper from CAP's success".
In outlining CAP's key priorities, Neil Gane, CAP General Manager, said "Two immediate priorities will be the disruption of the ISD ecosystem at its source and enhanced intermediary engagement with both eCommerce platforms and financial processors to disrupt transactions at the point of sale. Disrupting illicit commercial transactions is a key component of any anti-piracy strategy".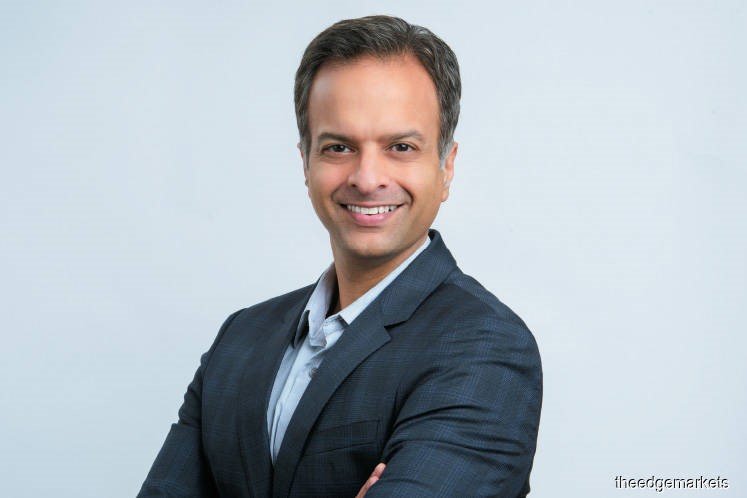 FOX+ @ OTT Group
FOX Networks Group presented at the recent OTT Group webinar. During this meeting FNG's SVP Head (SVOD) Digital for FOX+, Prakash Ramchandani, was quizzed by the group about all aspects of FOX+'s launch and rollout. It's early days still (available in Singapore, Hong Kong, Philippines and Taiwan) but Prakash gave as much insight as he could about their strategy and learnings. CASBAA Members can login to the OTT Group Resources page for a recording of the call.
CAP speaks at Piracy Workshop in Thailand
CAP General Manager Neil Gane spoke with other experts from the Pay-TV industry at a December 18th Bangkok Workshop on Enforcement Against Signal and Streaming Piracy, hosted by the Thai Department of Intellectual Property and the US Patent and Trademark Office. He joined Matt Kurlanzik (21st Century Fox), Narach Srihatai (True Visions) and Aaron Herps (beIN Asia Pacific) for discussions about the negative effects of growing piracy (notably ISD and website streaming piracy) on the industry in Thailand. Neil's key points covered potential enforcement solutions and disruption tactics being experimented around the world. About 40 officials from various Thai government agencies provided the audience for the sessions including the Department of Intellectual Property, the National Broadcasting and Telecommunications Commission, the Ministry of Digital Economy and Society, the Economic Crime Suppression Division of the Royal Thai Police, and the Office of the Attorney General.
All the best to Chris Slaughter & Mark Lay
December was the last month on the job for CEO Chris Slaughter and Singapore VP Mark Lay, who have both left CASBAA now to pursue other opportunities. They spent the month working to get our plans and programme in shape for next year – including attending the Asia Television Forum and Asia Television Awards to make contacts with potential speakers, and preparing for Board decisions (due in January) on the format and venue of CASBAA Convention 2018. Mark also hosted a meeting of the OTT Committee, and sought input for the annual OTT Summit (coming up fast – 21 March in Singapore). The CASBAA team will miss the energy and good humour of these two stalwarts of the Asian Pay-TV industry – we look forward to seeing them around the region!
Upcoming Events
20 Mar – CASBAA OTT Tech Showcase

21 Mar – OTT Regional Business Summit

23 Mar – OTT & Broadband India Forumbr

17 Apr – Hong Kong in View 2018

25 Jun – CASBAA Satellite Industry Forum 2018

5 Sept – Vietnam in View 2018

30 Oct – 1 Nov – CASBAA Convention 2018