OTT services won't kill pay-TV
Growing availability of over the top (OTT) video services won't result in a mass exodus from pay-TV services in Western Europe, Analysis Mason predicts. Read more here
---
Ad spending's new MVP: Mobile
Finally a forecaster is more optimistic about 2013 ad spending than it was a couple months ago, and the credit goes largely to mobile. Read more here
---
Govt, TRAI clash over ad time on TV channels
In a sign of soaring tensions, the I&B Ministry is considering all options to rescue the broadcasting industry as TRAI drags channels to court over ad time rule. Read morehere
---
Local soccer fans in limbo over TV rights
For the first time in many years, Premier League games will not be shown on Fox Sports channels [formerly ESPN and StarSports] in Taiwan. Read more here. For an in-depth look at the sports landscape in Asia, check out Sports Matters, Sep 18/19 in Singapore.
---
Join CASBAA 2020
CASBAA 2020 engages the next generation of television industry leaders to provide input on the future needs, roles and activities of CASBAA. Find out how you can play a part in the Association, contact sara@casbaa.com
---
Twitter acquires Trendrr
If it wasn't already clear that Twitter is serious about monitoring TV trends, the company just proved it by acquiring Trendrr. Read more here. Interested in learning more? …head to Social Media Matters on Sep 10 in Hong Kong.
---
We'd like more drama with our ads, please
Controversies surrounding product placement have been taking place ever since the Korea Communications Commission, the nation's broadcasting regulator, eased rules regarding product placement in 2010. Read more here
---
Counting down to the CASBAA Convention 2013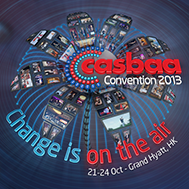 CASBAA's annual flagship Convention will take place on October 21-24 at the Grand Hyatt Hong Kong. Check out the latest programme of exciting sessions, stellar roster of speakers and the complement of networking events here. Register now to be part of multichannel TV's event of the year!
---
CASBAA Members' Mixer
Catch up with old friends, make new contacts and meet your fellow members at CASBAA's next members-only Mixer on September 26 in Hong Kong. For more information, please contactpr@casbaa.com. To register, click here
---
CASBAA Rewind Contest
Share with us your favourite moments from past CASBAA Conventions for a Chance to Win a Lomography Diana F+ camera! More information on how to enter here
5 Sept 2013
Hong Kong
CASBAA Board of Directors Meeting
26 Sept 2013
Hong Kong
CASBAA Council of Governors Meeting
26 Sept 2013
Hong Kong
CASBAA Mixer
21 – 24 Oct 2013
Hong Kong
Convention 2013
24 Oct 2013
Hong Kong
Turner Presents the CASBAA Closing Gala
Follow us on Social Media Networks