Convention 2013 Wrap Up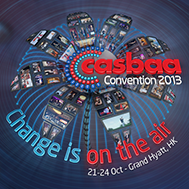 The 20th edition of the CASBAA Convention celebrated the continually evolving broadcasting industry with the theme Change is ON THE AIR. A variety of panel discussions highlighted several issues top of mind in the industry including online content delivery, piracy, monetizing OTT, branded content, audience measurement, satellite issues and much more. Click here for post-event materials
Convention 2013 Survey
How was your CASBAA Convention experience? We want to hear from you to ensure the event continues to be relevant to our membership base. As a little extra incentive, complete your survey by midnight tonight to be entered into a lucky draw for a new Apple iPad Air. Email pr@casbaa.com if you haven't received your survey.
---
Regulating for Growth 2014
CASBAA Regulating for Growth 2014 benchmarks the broadcast operating environment in a variety of Asian markets and includes a unique industry measure to calculate economic values against regulatory effectiveness. Visit the updated website here or order your free wall chart here
---
Asia Pacific Multichannel TV Advertising 2014
Updated for 2014, CASBAA's guide to the advertising landscape in Asia Pacific is packed with research, data, network profiles and case studies. Download your copy here
---
Singapore Mixer
CASBAA invites you to close the year on a festive note at our final members-only Mixer for 2013. Join industry friends for an evening of social networking, debate about what lies ahead in 2014, reflect on what happened in 2013 and have a drink on us! Click here to RSVP
---
UN World Television Day
Thursday, November 21 has been declared World Television Day by the United Nations. The European associations of the television industry have joined together to produce high-quality public service ads of different lengths to celebrate World Television Day that our members can use without charge and with global rights cleared. View the ad here, email pr@casbaa.com to download the video.
---
ITU Radio Forum – The Future of C Band in Asia Pacific 1 Nov 2013
CASBAA representatives joined other stakeholders in Pacific Island at an ITU-sponsored "Forum on the Future of C-Band" in Fiji on November 1, 2013. Click here to read more.
---
Connections – Coming Soon
Keep your eye out for the next edition of Connections out at the beginning of December. Wrapping up the CASBAA Convention 2013, this issue explores topics ranging from Cord-Nevers to the Changing of the Guard, and from piracy to technology to branded content – available in hard copy, to download or as an e-magazine.
---
Members Spotlight
For information about our Members, checkout our website
---
Career Highlight
SPT – Senior Manager, Deals and Product Planning
SNL Kagan – Sales Executive, Media & Communications
Email your job openings to listing@casbaa.com
4 Dec 2013
Singapore
Regulatory and Antipiracy Committee Meeting
5 Dec 2013
Singapore
CASBAA Mixer
5 Dec 2013
Singapore
CASBAA Board of Directors Meeting
Follow us on Social Media Networks