Counting Down – CASBAA Convention 2013 (22-24 October)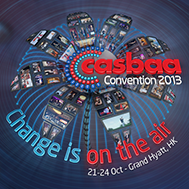 The countdown to the annual CASBAA Convention has begun with just over a week to go before the start of the Asia Pacific multichannel TV industry's event of the year! Hear from the best in the business over three compelling days of keynotes, panels and discussions. Delegate passes are still available, contact Kenneth Wong to reserve your place.
Turner Presents the CASBAA Closing Gala
Dust off your glad rags and be transported back to a time of dashing gentlemen and fun-loving flappers. Experience the glamour of The Great Gatsby on October 24 at the JW Marriott Hotel. Reserve your tickets with Kenneth Wong.
Tech Highlights at the Convention
Stay connected at this year's Convention with a host of technical enhancements. Download the official CASBAA Convention app from iTunes or Google Play.
Have a question for one of our panelists? Check out our Real Time Q&A system during the Convention (more details available during the event).
Want to arrange a meeting with another delegate? Take advantage of our Delegate Matching Tool to make that connection.
Black Mark for Chinese Media Players
Say it Ain't So! Forbes magazine reports that the biggest media players in China Inc. (CCTV, Tencent, Xiaomi) are invested in a black-box piracy platform. Read more here. The CASBAA Convention will tackle this issue with a demonstration of one of these boxes in use. Click here for the full Convention programme.
---
$75 million for Three Extra 'Breaking Bad' Eps?
Jeffrey Katzenberg, the CEO of DreamWorks Animation, told an audience of TV execs at Mipcom that six weeks ago he offered to commission three extra episodes – totaling 180 minutes – of "Breaking Bad." Read more here. Was the media mogul smart or foolish to try to continue the adventures of Walter White? More analysis here.
---
CASBAA Mixer
CASBAA's quarterly networking event took place on Thursday, September 26 at Origin in Hong Kong. Click here to see who dropped by for a drink!
---
Social Media's Battle for Your TV
Facebook and Twitter are waging a campaign to take over your living room, screen by screen, for a slice of the US$70bn advertising pie. Read more here. However, Facebook may have a leg up as they disclosed plans to add overseas TV partners. Read morehere.
---
Asia Pacific Affluent Continue Their Upscale Life
Asia Pacific affluent travel more and buy more but remain cautious about financial investments according to the ISOS Affluent Survey Asia Pacific. Read more here.
---
Battle over Broadcasting
Renewal of the Broadcasting Law is pending before Indonesia's Parliament, and it is throwing up real sparks, as both the Government and the Indonesian Broadcasting Commission (KPI) seek final authority over licensing of radio and television entities (including pay-TV operators.) Indonesian daily "Tempo" recently published opposing commentaries, and those interested can read informal translations here.
21 – 24 Oct 2013
Hong Kong
Convention 2013
21 Oct 2013
Hong Kong
Annual General Meeting
21 Oct 2013
Hong Kong
Council of Governors Meeting
24 Oct 2013
Hong Kong
Turner Presents the CASBAA Closing Gala
21 Nov 2013
Jakarta
CASBAA AD Upfronts
5 Dec 2013
Singapore
CASBAA Mixer
Follow us on Social Media Networks